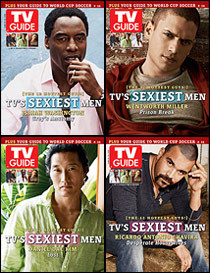 In the just-released issue of
TV Guide
, the magazine has unveiled a list of
TV's Sexiest Men
. The fantastic foursome earning top billing: Wentworth Miller of
Prison Break
, Daniel Dae Kim of
Lost
, Ricardo Antonio Chavira of
Desperate Housewives
and our very own
Isaiah Washington
of
Grey's Anatomy
.
With its four cover photos spread among rising Caucasian, Hispanic, Asian and African-American acting stars, TV Guide spread the wealth nicely -- although three of the four appear on ABC shows!
Each graces the cover in separate printings this week, with a collector's edition set of all four available. TV Guide's website has behind-the-scenes video clips of the actors' photo shoots, as well as shots of a number of other stars. Jensen Ackles, David Boreanaz, Jesse Spencer, Jamie Bamber, Michael Weatherly, Carmine Giovinazzo, David Conrad and Scott Foley were also recognized as some of TV's hottest.
In addition to an assortment of photographs that will surely appeal to female fans, the story provides insight into the actors from spouses and co-stars. Here's what a pair of special people close to Isaiah had to say about him.
"Isaiah's character,
Dr. Preston Burke
, is forthright, honest and open to a relationship. He loves Cristina amidst all her faults. Their friction is not only sexy — it's real. And we all like to see how characters we love overcome their problems, because it gives us hope that we might be able to, too. Isaiah is larger than life. I don't think he lets his wonderful comic sensibility out that often, but I love seeing it — like in the party scene we had to do, when he made Burke dance like he was stuck in 1989." —
Grey's Anatomy
co-star
Sandra Oh
"Isaiah and I got married three months after we met, even though I was living in New York and he was in L.A. He sent poetry, flowers, books. Now we've been married 10 years and we have three kids, but we make time to be together. We take yoga, we go bowling, we watch art-house films. And every now and then, we sneak off for an afternoon together in a hotel. He has a gorgeous physique, but what really makes my heart go pitter-patter is his generosity. Recently, he traced his ancestry back to Sierra Leone in Africa. He decided to travel there with a film crew. He took along a doctor and got Nike to donate tennis shoes and soccer balls, and a medical organization to give penicillin. He's also very interested in the plight of the African-American. A few years ago, he noticed that the only parts he was being offered were as hoodlums. He made a decision to stop portraying negative stereotypes, even though it meant not working for a while. He believes that what you do comes back to you, and he's very clear about what he wants to leave behind for his children. I'm so proud of him." -- wife Jenisa Washington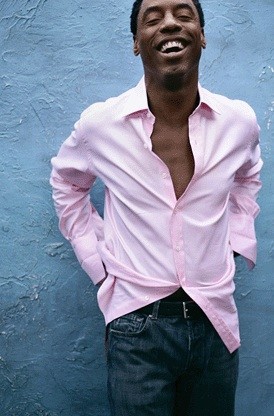 What a wonderful tribute to a terrific actor and person. There isn't anyone more deserving. Be sure to check out our Isaiah Washington gallery for more images of him on and off the set. If you desire additional reading, we have a news section devoted specifically to Isaiah's recognition and pursuits, along with an entertaining Face-Off tribute to the incomparable Dr. Burke.

Steve Marsi is the Managing Editor of TV Fanatic. Follow him on Google+ or email him here.

Tags: Grey's Anatomy