It wasn't just the heat of battle that 100 American Idol hopefuls had to endure Saturday during auditions in West Des Moines, Iowa. The drenching humidity and soaring temperatures made for a downright brutal competition at the Jordan Creek Town Center's amphitheater, the Des Moines Register reports.
For 100 aspiring superstars from all over Iowa, the objective was to earn a guaranteed audition for American Idol 6. That meant bringing their game faces and signing their hearts out, regardless of the adverse conditions.
"If I had known we would be outside, I would have changed," joked 23-year-old Aaron Streck of Burlington, Iowa.
As he sipped from a bottle of water, Streck's combination of a long-sleeved shirt topped with a short-sleeved one, as well as torn jeans, left him a tad warm. The heat also took its toll on the audience, with one teenage girl requiring medical attention.
The Des Moines area's local Fox affiliate, KDSM Channel 17, held open-call auditions beginning at 10 a.m. for the first round of this year's Iowa Idol competition. Similar to American Idol, the Iowa talent search, now in its fifth year, looks for the most talented musical performer in the state.
The highly-anticipated American Idol 6 premieres in January.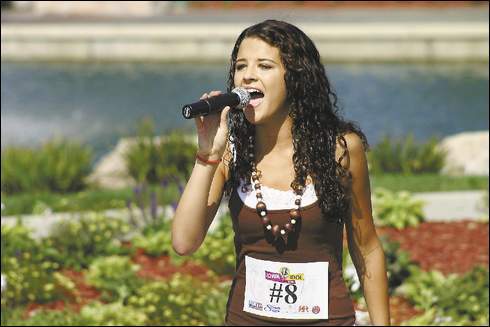 Iowa hopefuls had 30 seconds to sing a song of their choice without musical accompaniment, and were judged on a point system that combined their voice, appearance, song choice and personality. Judge Cory Harstad was looking for balanced performances that not only showcased contestants' musical ability, but also their confidence and showmanship.

"(I look for) what they can do to hook the crowd. Confidence is a big part of it." said Harstad, owner/engineer of SR Audio in Des Moines, and one of the competition's three judges.

After about two hours of performances began, the panel of judges whittled the field down to 12. The semifinal round will be August 12 at the Iowa State Fair, with six singers then advancing to the finals on August 20, also at the State Fair.

The Iowa Idol grand prize includes a guaranteed audition for American Idol 6 in Minneapolis on September 8, as well as 15 hours of recording time at SR Audio.

Semifinalist Rebecca Davis, 25, who didn't make it to the Iowa Idol semis during another try a couple years back, was one of several crowd favorites with her rendition of Anita Baker's "Caught Up in the Rapture."

"I love music," the Des Moines resident said.

Matt Richenthal is the Editor in Chief of TV Fanatic. Follow him on Twitter and on Google+.

Tags: American Idol