They came by bus, car, airplane, roller skates and sheer force of will.
They wore low-cut evening gowns and hair curlers and banana suits.
And they sang, sang and sang some more.
According to the Los Angeles Daily News, as many as 20,000 American Idol aspirants began standing in line at 3 a.m. Tuesday at the Rose Bowl with dreams of landing on the country's biggest show, and becoming a star.
An audition could get them there (you never know), and this week's mark the first of seven over the next month as the search for the Season 6 cast gets underway.
"You need a lot of patience for this. But everyone's here for the same thing, so we're all keeping it positive. Being here is something to remember," said Francesca Lucioni, 23, of Pasadena, who planned to sing something from The Little Mermaid when her turn came.
By dawn, thousands stood warming up their voices, hoisting signs saying things such as "Simon for President in '08" (whether that meant surly judge Simon Cowell or creator Simon Fuller is unclear), chatting on cell phones and keeping toasty beneath blankets and sleeping bags.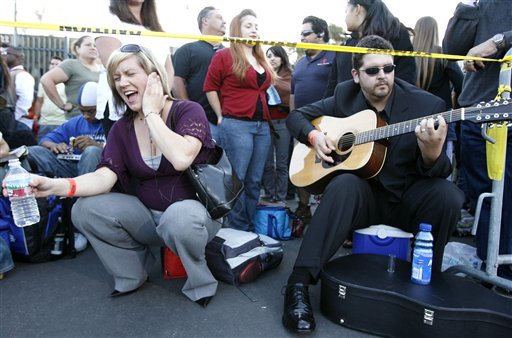 "You make friends here since you're sharing the experience. The crowd really pumps you up," said Tiffany Zavala, 16, who had already spent four hours in the pre-dawn darkness waiting to sing "Impossible," the Christina Aguilera hit.

Patrick Lynn, coordinating producer of Idol, promised each and every person holding a ticket for the audition that they would be heard.

"I tell everyone to focus on today's performance. Do the song that shows you at your absolute best. We're looking for originality and personality and commitment," he said.

Last year, Sherman Oaks, Calif., native Katharine McPhee made headlines by advancing all the way to the final night before finishing second.

The producers of the show will narrow down the hopefuls to 12 men and 12 women ages 16-28 by the time AI begins airing in January. The episodes will first feature the audition sessions, showcasing some of the best and worst from each of the seven cities. This year, something new will be added -- a song-writing contest in which professionals and amateurs will have the chance to pen tunes for the finalists.

"I think this whole thing is great," said Pete Oganesian of Woodland Hills, who was accompanying daughter Kathereen, 18, to the event. "It gives the kids something to look forward to and excel at. You make it, or if you don't make it, you can always try next year."

Once the Rose Bowl gate opened at 8 a.m., and the potential Idols were seated in the stadium, hopefuls were brought down in groups of four to perform in front of the panel of producers. Each was given little more than 30 seconds to make an impression. Most were rejected immediately.

Standing in line all night prior to auditions is not the optimal way to be heard at your best, but it serves to weed out the weaker ones. It wasn't easy for Lacee Dewall, 18, who spent 12 hours on a Greyhound from her home in Salt Lake City and was staying with friends in Riverside, Calif.

As late as 7 a.m. Tuesday, she wasn't sure whether to belt out Janis Jopiln's "Me & Bobby McGee" or Rascal Flatts' "Melt."

Carolina Herrera, 21, had a similar problem. The elementary school TA had to choose between the Selena version of "No Me Queda M s" in Spanish and Alicia Keys' "If I Ain't Got You." Herrera's energy didn't seem to be lagging despite her 3 a.m. arrival, fortunately.

The very first person in line? Ken Fitzgerald, 27, a contractor, took the honors after running to the front when the line began.

"This is all just for fun," he said.

Matt Richenthal is the Editor in Chief of TV Fanatic. Follow him on Twitter and on Google+.

Tags: American Idol