Following her performance at the Billboard Music Awards this week, Paris Bennett sat down with TeenMusic.com. Here's a summary of that interview:
TeenMusic: Did you go on the American Idol tour after the show was over?
Paris: I went on the tour this summer and now I'm getting ready for a promotional tour coming up on my own. We're all kind of on our own now and separated and I'm kind of sad but I get a chance to see them all. Lisa and me are best friends so I get to see her and [Kevin Covais] when I got to New York. I get to see everybody at least once or twice a month. I miss them all. That was my new family.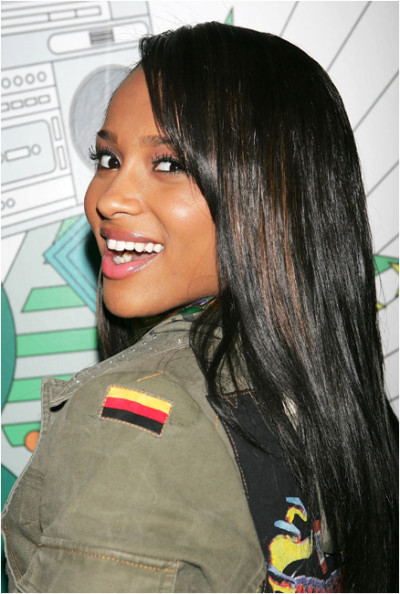 TeenMusic: Where are you from?
Paris: Fayetteville, Georgia. My family is still there.

TeenMusic: What's coming up next for you?
Paris: I have my new album coming out which is called "Princess P." My first single is "Dreamin'" coming out next week. The album comes out in February. We haven't done a video yet but we're getting ready. Basically, it's about my American Idol experience, my life before and life after. I'm co-writing it. This being my first album, I'm co-writing with Ray Issac, a new guy. I have a producer doing writing with me.

TeenMusic: Holiday Plans?
Paris: For Christmas, I'll be on the Disney cruise. Me and Bianca Ryan are performing on the cruise and my family is going to come and join me on the cruise. Disney has their own island. We're going to go to St. Lucia and it is fabulous. I only have to sing one day on the cruise so I'm going to get some rest and chill out.

TeenMusic: One thing you want for Christmas?
Paris: You know, Reggie Bush but I don't think...[laughs]. I really want is a Playstation 3 but I'm waiting to see what's in the box and under the tree for me.

TeenMusic: Who are you rooting for for the awards? Or, who do you wish was nominated?
Paris: I'm not sure of all the nominees but Fergie should be nominated and All American Rejects for sure. Okay Go really needs one for video. Ciara, Chris Brown and Ne-Yo.

TeenMusic: Who were you listening to as a teen?
Paris: Gladys Knight, Sarah Vaughn, Billy Holiday, Etta James. I'm a little person with an old soul so I go way back, Aretha Franklin.

TeenMusic: Who do you wish you could spend a day in Vegas with?Paris: Gladys Knight, just being in her presence is all I really want. I would do anything to hang out with Gladys Knight. She's my favorite.TeenMusic: Message to your fans?
Paris: Keep dreaming, be you.

Matt Richenthal is the Editor in Chief of TV Fanatic. Follow him on Twitter and on Google+.

Tags: American Idol