With her self-titled album hitting stores today, Fantasia Barrino should be pleased about a recent review of it in The Sun-Sentinel. We've paraphrased the article below:
Fantasia Barrino
wraps up a busy 2006 with her sophomore album,
Fantasia
(RCA). The most offbeat of the five American Idols, the people's choice of 2004 is the R&B singer with the endearingly froggy voice and a rags-to-riches biography that was, this year, literally made for television.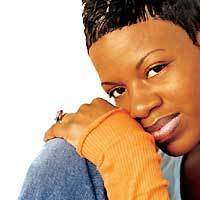 Star and subject of Lifetime's

The Fantasia Barrino Story: Life Is Not a Fairy Tale

, Fantasia continues what is something of a fairy-tale run. The second album is no better or worse than 2004's

Free Yourself

. But it's enough, thanks to a handful of standout tracks, to keep this personably sincere entertainer safely on the show-biz treadmill for at least another year.

Some collaborators want to hide the singer's peculiar timbre and to mask the spiky anguish and urgency in her voice. The results of this airbrushing are mixed. Not The Way That I Do seems to be an effort to confuse Fantasia with Ciara, peddler of Goodies. Uneligible is a Janet Jackson layer cake, although Fantasia - all 20 or 30 dubbed tracks of her - surfs the song's fat, continuous synth line as nimbly as any dance-club diva.

Sunshine borders on psychedelia as the natural quality of Fantasia's verses is quickly submerged in waves of over-production. Baby Makin' Hips, a lope on high heels, is better at dressing up without suffocating itself. And the uptempo single Hood Boy, with its itch-scratching sample of the Supremes' Happening, sounds like a thumping Missy Elliott track - except Missy didn't write it.

Instead, hip-hop's first lady wrote and produced Two Weeks Notice, a tender R&B ballad with a soft melody and wordplay reminiscent of R. Kelly and Brian McKnight.

At the risk of typecasting, Fantasia's hardscrabble background has imprinted both sadness and determination on her voice, and when Fantasia allows those qualities free play the album shines. In the gently stubborn Bump What Ya Friends Say and the determined ballad I Feel Beautiful, Fantasia is the teacher, preacher, role model and honest-to-goodness human being that made her such an inspired choice of Idol watchers.

** We'll be sure to post other reviews we find of American Idol albums, now and in the future.

Matt Richenthal is the Editor in Chief of TV Fanatic. Follow him on Twitter and on Google+.

Tags: American Idol