We're live from Birmingham, Alabama!
Let's see how these American Idol auditions compare to those from New York last week.
Highest expectations set: Ryan Seacrest. Alabama is the home to former Idols, Bo Bice, Ruben Studdard and Taylor Hicks. Those are two of the show's five winners. But no pressure, newcomers.
Most Muppet-like: Katie Bernard. Just don't talk on your way to Hollywood, ok? But bring alike your shy, cute husband. He seemed to be the only thing standing between Paula and a nervous breakdown.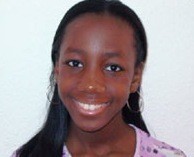 Most well-grounded:

Tatiana McConnico

. Pictured here at age 13, this is a straightforward, down to earth 17-year old who seems quite ... normal. An

American Idol

oddity, sadly. Great name, too.

Sundance Head

has some competition.

Birmingham-ing-est: Bernard Williams II. The man has serious Alabama pride. He knows his Rubens, Taylors and Bos for sure. He also knows his Randy Jacksons, apparently, as a plea to his "dawg" gets Bernie through.

Saddest, prettiest story: Jamie Lynn Ward. A paralyzed father. Blue eyes. Blonde hair. And an actual voice. A new contender has emerged.

Biggest surprise: Chris Sligh. A goofball at heart - but, no, Simon it's not Justin Guarini. It may, however, be this year's runner-up, just like Mr. Guarini. Sligh is sly. Who knew this Screech Powers look-a-like could sing?

Matt Richenthal is the Editor in Chief of TV Fanatic. Follow him on Twitter and on Google+.

Tags: American Idol