Season six of American Idol debuts tomorrow - but it turns out the drama onstage is nothing compared to the soap-opera antics offstage. So explains a recently article in The New York Post.
Based on interviews with 10 past contestants from different seasons, the newspaper reveals what life is like in the American Idol dorm.
Katharine McPhee repeatedly sneaked out to visit her boyfriend. Ryan Starr spied on neighbor Jennifer Lopez's house. Scott Savol and pals made frequent trips to Hooters. And Bucky Covington says the boys' rooms were stinking pigsties.
On the other hand, Josh Gracin often cooked breakfast.
Each season, contestants who make it past the national auditions are flown to Los Angeles, where they live two to a room in a hotel. Once Simon, Paula and Randy winnow the group to 12 finalists, they're moved into private accommodations.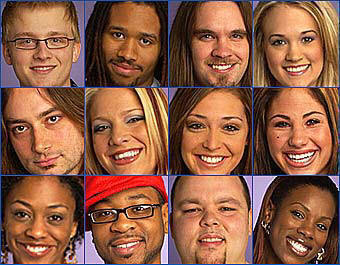 During the first three seasons, home was a four-story mansion on Mulholland Drive in Bel-Air. Since then, contestants have lived in a luxury apartment complex just three miles from the studio.

They are thrown together 24 hours a day, seven days a week. Each is given a cellphone, but there's very little other contact with the outside world.

No visitors are allowed at work or at home, there is little freedom to come and go, they aren't allowed to drive and there's a strict curfew: 11 p.m. during the week, and midnight on the weekends.

They are surrounded by chaperones - from producers to contestant coordinators making sure the American Idols are where they need to be - and they are attended to by chefs, chauffeurs, stylists and security guards.

They have to get permission from the production and security staff to go anywhere alone - and they must have a security guard accompany them.

At the beginning, "we didn't know what to expect," says Season One seventh-place siren Ryan Starr, 25. "We didn't know there were 34 million people watching the show."

When Starr and her nine castmates - in the first season, only 10 finalists were selected instead of the 12 in later seasons - moved into the mansion, "we were like kids in a candy store," she says.

"We were running up and down the stairs, using the elevator, and we jumped in the pool with our clothes on. We had never seen a house that big."

The house, hidden behind gates, was rumored to be owned by an Indian princess.

"J.Lo lived down the hill - you could see her patio," adds Starr. "We had binoculars and we used to spy on her. We never saw her, though. Just people cleaning."

"It's way easier to be on the show now," says Starr, who is currently recording an album and pitching a reality-television show about trying to make it as a female rock artist.

As the seasons rolled by, competitors benefited from a stylist and a clothing allowance - not to mention gifts from designers. But in Starr's day, they did their own shopping and used the per-diem allowance they received to buy their own clothes for on-air performances.

"We rode around in one big van that smelled really bad. We'd have three hours to go shopping. I often made my own clothes; I'd be in the closet, sewing my costumes together."

There was very little glamour.

"It was like a boot camp," says second-season seventh-place finisher Kimberly Caldwell. "All we did was practice. We worked our butts off, from 5 or 6 a.m. to 10 at night."

They rehearse, pick songs, film the Ford commercials, do interviews and get their pictures taken when they're not on air. Because they're always in one big group, they're often hanging around in the green room while fellow contestants finish up.

"It was stressful. We didn't relax when we were on the show," adds Caldwell, who is a host on the TV Guide Channel and is recording an album.

"The only time we got to chill was on Wednesdays; it was the last dinner for whomever got kicked off, so we went to an Italian restaurant and ate too many carbs."

"You kind of get cabin fever after a while," chimes in second-season third-place finisher Kimberly Locke, who had a hit post-Idol single, "Eighth World Wonder," and will appear on VH1's Celebrity Fit Club this spring.

"There were a lot of rules. To have someone tell me that I can't go out and take myself to the store, that took a lot of adjusting."

Still, there was time for fun. Fourth-place Idol Josh Gracin always made breakfast, says Caldwell, "Eggs, omelets, all that stuff."

To read the rest of the article, click here.

Matt Richenthal is the Editor in Chief of TV Fanatic. Follow him on Twitter and on Google+.

Tags: American Idol