In the last preview of American Idol season six - courtesy of Entertainment Weekly - we talked about how awful the auditions were this year.
Now, we're gonna delve into a new part of the show ...
3. The songwriting competition
Purists agree that last year's finale - featuring Prince, Mary J. Blige, and that painfully awkward Claymate who nearly fainted on live TV - was a high point for the entire series. But all that brilliance came to an ear-bleeding halt when Taylor Hicks was forced to sing the dreadfully sappy ''Do I Make You Proud.''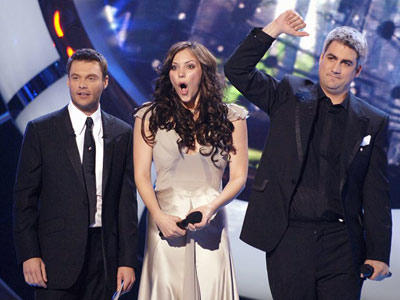 Sure, his winning version debuted at No. 1 on Billboard's Hot 100 chart a month later, but as Cowell gleefully admits, ''that song was horrific.''
Producers agreed. This year, they're planning a national songwriting contest to determine a winning single; the competition, which is not yet finalized, is slated to be open to anyone - signed or unsigned - who submits a tune to a to-be-named website. That is, if the show's executives can work out the specifics.
''The short list of songs will be [chosen by] the three judges and the producers,'' predicts Warwick.
But Lythgoe says the judges should have nothing to do with the final choice. His solution?
''I would love to do two or three shows with past [American Idol] contestants singing the songs, and then have America judge the songs,'' he says. ''But that is not confirmed with Fox yet.''
The judges are none too happy at the prospect of being cut out of the song-selection process.
''People always ask, 'Why did you pick that song?''' Abdul says. ''It's weird. We have everything to do with the rest of the season and nothing to do with the final song.''
Whichever side emerges victorious, two facts remain: The most popular finale song was season 1's ''A Moment Like This,'' and that was the one winning Idol tune that Cowell - who's since been booted from the selection committee - personally commissioned. (He's releasing it again as the first single for Leona Lewis, winner of U.K. sensation The X Factor.)
''It's no skin off my nose,'' he shrugs, ''but if I hate [the song] I'm going to say it.''
And Randy's thoughts? '
'Finding a hit song at any time is one of the hardest things in the world. I wouldn't want to be the guy looking through them all.''