As American Idol embarks on its sixth season, industry insiders are wondering just how long it can remain popular.
A recent article on MTV.com provided a slew of opinions on the issue.
"I think it could be like Kellogg's," said Ron Fair, the A&R guru behind Christina Aguilera and the Pussycat Dolls, comparing Idol to the century-old cereal brand. "They have created something that is just so intrinsic in everybody's consciousness now, and I don't even think 'How long will it last?' is a relevant question. I think this thing goes on forever. There may be peaks and valleys, depending on who is on the show, but it's like 'Monday Night Football."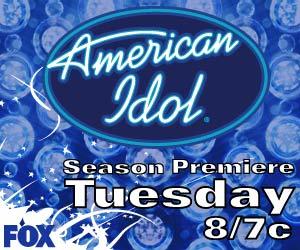 Not surprisingly, Randy Jackson agrees.

"I think there's an abundance of talent in America, and there will never not be a lot of talent out there," he said. "You see what's happening to Jennifer Hudson, who didn't even win that year. That tells you right there there's a lot of great talent out there. It's just about finding it."

And as the show is increasingly legitimized by things like Hudson's star-making turn in Dreamgirls; the success of fourth-place finisher Chris Daughtry; and Prince's appearance on last season's finale, Jackson insists the auditioning talent only gets better.

"For years, everyone has been skeptical," said Clive Davis, the legendary mogul who has overseen several former Idol finalists' albums for J Records and RCA. "But I am telling you, for us it has been an incredible opportunity to find new artists."

So with an endless pool of future Kelly Clarksons to choose from, is it possible American Idol really could become an establishment as American as "Monday Night Football," which just wrapped its 37th season?

"I have seen nothing to indicate that Idol will be slowing down anytime soon," said David Bloomberg, editor of fan site FoxesOnIdol.com. "If the public were to lose confidence in the voting, that could hurt it. But it would take a lot for that to happen. Every year there is a 'shocking' elimination and some people say it's rigged and they're never watching again. And then each year those people are right there in front of their TVs once again. It would take some huge revelation to kill the show at this point."

JoJo Wright, who, like Seacrest, hosts a radio show on KIIS-FM in Los Angeles, suggested another potential concern.

"The only immediate scenario I see that could dethrone Idol is losing Simon," he said. "All the characters have become household names, but Simon is the central figure that the show revolves around."

Cowell's contract with American Idol lasts another four seasons, but with so many other projects in the works (from his classical boy band Il Divo to "America's Got Talent" to huge British hit "The X Factor"), there's no guarantee he'll renew again."

"American Idol is genius because it takes singing songs and basically turns it into sports, where it's a competition," Fair explained. "We all know in real life music is not a sporting event, but on the show they are able to flip the elements around so that you get the same buzz you get off watching a game as you do watching music getting performed.

I am jealous that it's not my show. And as much as I am not a fan of many of the winners, I think it is an absolute genius, ubiquitous institution."

Matt Richenthal is the Editor in Chief of TV Fanatic. Follow him on Twitter and on Google+.

Tags: American Idol