As Paris Bennett prepares to release her album in March, she found time to sit with Entertainment Weekly and discuss American Idol auditions so far ...
ENTERTAINMENT WEEKLY: With the new season of American Idol, do you have any favorites so far?
Paris Bennett: I've only seen the first two shows, so it may change, but I liked Jared Fowler, from Minneapolis. He was the guy in the Navy, and he can really sing. Doing that Rascal Flats song, he was great.
Do you miss being on the show?
Not at all. I'm not into that whole compete-for-your-talent thing... I want to know how long this can go on. It's going to start repeating itself, finding the same people over and over until you've seen it all. They already have an Idol in every genre. How long is it before you're bored and it just becomes a popularity contest?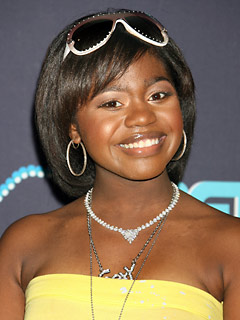 What do you make of Paula's recent behavior?

I saw the footage and laughed. Everybody makes mistakes, and she's only human. People give her such grief, but I love [

Paula Abdul

]. And all that stuff makes for great TV.

You got asked to judge auditions for a New Orleans high school production of Dreamgirls. How was it to sit on the other side?
I wasn't harsh, but I tried to keep it real. I would say, ''Singing's not for you,'' or, ''Do you have another talent? Maybe poetry? Keep that one.'' But the kids were amazing. McDonald High School is the first all-black performing arts school in New Orleans, and they lost their theater equipment after Hurricane Katrina, so they're raising money to get it all back and be one of the first high schools to put on Dreamgirls as a play.

I have a lot of respect for those kids, who are living in trailers and trying to go to school without enough teachers to teach them. It was a big learning experience for me.

Tell us about your upcoming album.
It's very pop, but at the same time, it could be played at any club. The songs are all about me - things that relate to my life, my issues about not having a dad around, negative influences of people around me, and relationships in general.

Any featured guests?
Kevin Covais is on my record. He does a rap.

Kevin, as in ''Chicken Little?''
Yes. We're good friends and decided to do this sweet, funny interlude called ''Let Me Rap.'' What the world doesn't know is that he can really rap! He should do a rap record.

What about your nickname, Princess P — what is its origin?
I was the first girl grandchild in my family. That's where it comes from, but it definitely suits my personality. My motto is that the world has been officially princessed, which means I've basically put you in my world, where everyone should live a life of royalty and love themselves.

Matt Richenthal is the Editor in Chief of TV Fanatic. Follow him on Twitter and on Google+.

Tags: American Idol