With rumors of Michael Jackson on American Idol swirling, we settle in for the first round of Hollywood auditions. Let's see which favorites emerge ...
8:01 p.m. - Taylor Hicks is a music superstar. Really, Ryan Seacrest? That's news to, you know, music fans.
8:03 p.m. - Tonight is girls' night. Does that mean free drinks until midnight? Or cat fighting about ugly hairstyles? Oh, just that only the women sing tonight. I get it now.
8:04 p.m. - Jory Steinberg starts the evening off. We like her. The judges do not, apparently. Ouch.
8:09 p.m. - Perla Meneses isn't too high on herself or anything. She's just gonna beat this Shakira thing into the ground, isn't she? Typically, we wouldn't mind that, of course.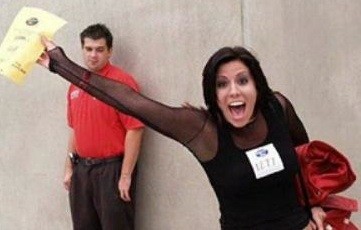 8:12 p.m. - My

American Idol

cohort says

Baylie Brown

is very "Dixie Chicks-like." That's a very good thing these days. Simon and company agree.

8:14 p.m. - Ashlyn Carr is going home. Uh-oh, watch out for your gas tanks, judges.

8:16 p.m. - Oh gosh. Some mother is complaining, while her daughter is blaming the song for failing. No, sorry, she's blaming the delivery of the song. Get off the stage.

8:17 p.m. - Slow down, Ryan, we can't keep up with your lists of who made it. Okay, Tatiana McConnico is through. So is Melinda Doolittle. Those weren't hard to predict.

8:22 p.m. - Are we smarter than a fifth grader? With Jeff Foxworthy? Really, FOX?

8:23 p.m. - It's the guys' day. All hail Sundace Head. We're just sayin.

8:25 p.m. - Brian Miller can sing. But he strikes us as that obnoxious kid in class. Jarrod Fowler, however, well, he's in the Navy. Nothing negative to say there.

8:26 p.m. - Matt Sato. Seems like true emotion from this kid. Gotta support that.

8:28 p.m. - Phil Stacey is through. So is Sean Michel, long hair be damned.

8:32 p.m. - It's group night. No one wants to be with Matt Sato for some reason. We'll sing with you, Matt!

8:34 p.m. - Baylie teams up with best friends, Antonella and Amanda! Exciting ... and apparently anger-filled. Knowing the lyrics might help, ladies.

8:42 p.m. - That was a Sato-laden roller coaster ride. Matt forgets his words and is gone. Just like that. See how quickly the dream can die, people?

8:43 p.m. - Gina Glockson (pictured) is not pleased with Perla. We don't blame her. That gal is no Shakira. Simon lets her know it, too.

8:45 p.m. - Chris Sligh won't be hearing anything but praise in the near future. He and his male co-singers show us how it's done. Well done, Blake Lewis.

8:47 p.m. - Uh-oh, Sundance. Pick it up, Sundance! Hey, that's Robyn Troup of Grammy fame you're singing with.

8:51 p.m. - Baylie forgets the words. All the words. So does Amanda. Gee, we didn't see this coming when she was flirting with guys all night long or anything. But the A-train stays. B-squared goes home. That's an upset.

8:52 p.m. - Amanda says she and Antonella got through because "God likes good people." Just one problem ...

8:57 p.m. - Amanda is cut.

Matt Richenthal is the Editor in Chief of TV Fanatic. Follow him on Twitter and on Google+.

Tags: American Idol
From Around the Web