- Before we see whether or not Sundance Head or any of the American Idol men can step it up, we urge all readers:
** Turn off your television set after the show is over. Don't encourage FOX by watching the show that should be entitled: Are You Smart Enough to Have Forgotten Useless Information From Fifth Grade Because Now You're an Adult Who Has More Important Things to Remember for Life and Work?
Thank you. Start it up, Ryan Seacrest ...
- Congrats goes out to Jennifer Hudson. That's a nice way to put pressure on these contestants. And acknowledge Hudson's performance, we suppose.
- Whoa. Was that Sanjaya Malaker dressed like Michael Jackson? Wonder if he had any coaching. This is already more of a transformation than Britney Spears with hair to Britney Spears without hair.
- Easy set up here for Phil Stacey: who does he dedicate his song to? The military. That's gonna be hard to beat, fellas.
- STOP SHOWING JEFF FOXWORTHY IN THE AUDIENCE!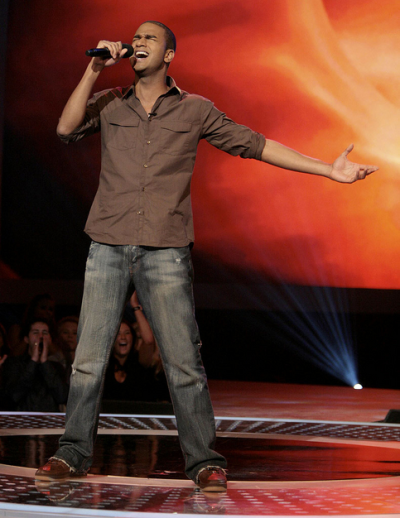 - As much as everyone bashes Simon, notice how all the guys acknowledge his opinion? They respect him. Let's see how

Jared Cotter

(pictured) shows the man - and viewers - the love.

- Love was the operative word, as Cotter wants to "get it on" with .... someone. Maybe his hand at the end? Randy liked it ... but did he just reference McSteamy? And did Paula just giggle over the word "push" just because the song was about sex? Wow. Let's move on.

- Good luck following that, AJ Tabaldo. All the judges at least agree it was better than last week. Sounds like back-handed compliment city to us, though.

- It's the new Sanjaya. And he's scaring us. You're trying, dude, we admire that. But this just isn't you.

- Chris Sligh dedicates his song to his wife. His beautiful wife. And he certainly seems sincere singing about how he's been "saved by a woman." Easy to see how. Simon can't even think of anything negative to say.

- Let's see how Nick Pedro, also dedicating his song to a significant other, follows Chris' romantic, Sligh act. Hmmm ... it's never a good sign when the drummer is the highlight of the performance. Randy and Paula were proud of him. We were bored.

- Do it to us, Blake Lewis. This is either the perfect song choice or one that's almost too easy. We might as well rename this guy "Jamiriquai." And we mean that in a great way ... although we see Simon's point that this is basically a rip-off. Nevertheless, it's fun.

- Brandon Rogers can't skat or beatbox. But he can choose a cheesy song. Randy sums it up well: this show isn't about tributes to your relatives, as touching as those can be. You gotta bring it, B-Rog!

- Let's see if Chris Richardson knows what we mean. The judges sure seem to think so. Simon says Chris was the "best by a mile."

- We already like Sundance because his son has a cool name. Levi. You just don't see enough of that these days. Nor do you see Head acting relaxed enough on stage, do you? Odd, coming from a performing, singing father and all. But, gosh, the guy can whale.

Our picks to be voted out Thursday: Sanjaya and Nick. Thanks for reading, everyone. Now, TURN THE CHANNEL!

Matt Richenthal is the Editor in Chief of TV Fanatic. Follow him on Twitter and on Google+.

Tags: American Idol