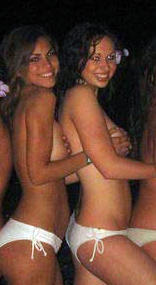 Lakisha Jones or
Melinda Doolittle
?
Chris Sligh or Blake Lewis?
This season of American Idol has produced debates and controversy already - but none more so than the Antonella Barba pictures that have surfaced on the Internet.
The New Jersey native is topless ... but covered up. She's young and having fun ... but a little too much?
Readers have left numerous comments, sharing their feelings.
We appreciate all views, ask you to keep it clean and are here to present a few more pics of Antonella from her past.
Again, we're not here to judge - we'll leave that up to Simon, Paula and Randy. We just wish to provide fans with all the information we can: