We can say this much about tonight: Lakisha Jones is safe. That's almost the only sure thing, so let's get to it ...
- Wow, quite the set of guest judges coming up this season: Gwen Stefani, Jennifer Lopez, Toney Bennett, Martina McBride and an American Idol Worship favorite ... Jon Bon Jovi!!!
- Chris Sligh if funny, talented AND smart (too bad he's married!). He tries to clear up his tiff with Simon. Meanwhile, Brandon Rogers is assured that he's moving on.
- Some people may be upset about this one, but Sundance Head is staying. We still say this guy has a lot of potential - but he better step up next week.
- And that's it for Paul Kim. A lesson, as always: never rely on the bare foot gimmick.
- Okay, ladies, let's see which of you is going home. Not Jordin Sparks. Good. We like her a lot. Sabrina Sloan and Stephanie Edwards are safe, too.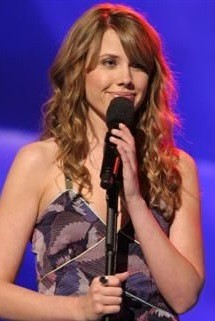 -

Not so much for Amy Krebs (pictured), though

. Not too hard to see that one coming.

- Fantasia Barrino comes out and makes the announcement that she's be starring in The Color Purple. She also does a solid job on "I'm Here."

- Wow. Antonella Barba stays. We're surprised by that one. Due to the looks? The topless pics? Hard to believe it's the voice.

- In her place, Nicole Tranquillo is given the boot. We never got to know her well.

- Looks like Daughtry and the song "Home" will be this year's Daniel Powder. A better selection, we say. Too bad Rudy Cardenas had to hear it so soon, though. The singer of M-Pact won't be leaving an impact on this season anymore.

Matt Richenthal is the Editor in Chief of TV Fanatic. Follow him on Twitter and on Google+.

Tags: American Idol