Every week, TV Guide reviews and previews American Idol. So let's get right to the opinions of experts Kimberly Caldwell and Rosanna Tavarez.
TVGuide.com: Let's talk about American Idol in the headlines, namely Antonella Barba and the photos that have surfaced online, some of which appear to show her, how shall we say, "stepping up to the microphone." Which is her biggest liability, the racy photos or her singing?
Rosanna: The best comparison would be Frenchie Davis, who I think they took out for having those porn pictures. She still had a great voice and went on to do [Broadway's] Rent. In the competition, though, it might hurt Antonella.
Kimberly: I think she was kind of destined to not be on the show in the next couple of weeks anyhow, but I think this will definitely hurt her, which is sad because everyone has a past, everyone messes up. Hopefully people will be forgiving, but if you do plan on having a career, you've got to be careful about what you choose to do. The American Idol is very wholesome.
Rosanna: We like our American Idols wholesome, to say the least. But also, she's really got to increase her skills. If she stays in the competition, she's going to have to step up to the plate vocally.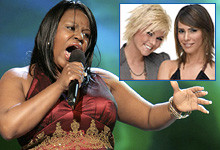 TVGuide.com

: Now on to

Idol

proper. Are the guys a rather unremarkable lot or what?

Rosanna

: If I agreed, I wouldn't be saying anything new. The boys are not really standing out.

TVGuide.com: They're blending together for me, except for maybe four of them.
Rosanna: They really are. Chris Sligh is a good vocalist — he's consistent and he doesn't go off-key and he's got charisma and a sense of humor — but man, when those women took the stage, you felt like, "OK, I'm not sure what I watched last night, but now I'm watching American Idol." The boys are going to have to watch out, because the girls are going to take over.
Kimberly: I really enjoyed Chris Sligh. His voice is really great, and I think his personality is helping him a lot, too. I really like Blake, and I really love that he didn't beat-box. He's so talented and versatile.... I think he was actually the best vocal.
Rosanna: For the first couple of weeks, Blake should just kind of sing, but he's going to have to bring it back because it will set him apart, and give him a little flava.

TVGuide.com: Do you have any concerns about Sundance Head?
Kimberly: I'm waiting for Sundance to make his big comeback, and it's going to happen.
Rosanna: I think he's really terribly nervous. It's uncomfortable to watch him because you can almost see him thinking, "Oh, my god, people are watching.... I hope I don't mess up." He's really talented, and I can't get the first audition out of my mind. You don't just happen upon that kind of singing. I think he's just head-tripping, and that can really get to you. He's got to relax.

TVGuide.com: With the ladies, we said goodbye to Nicole Tranquillo and Amy Krebs, as in "the personality of a candle"....
Kimberly: I think that was the rudest thing that Simon could have ever said to anyone, and I am sure Amy is so hurt right now. People say mean things in this business, but to say that pretty much everything about you is forgettable is pretty harsh. I thought she had a pretty voice, but it was the wrong song and she was in the wrong dress....
Rosanna: My reaction to watch those two girls perform was like watching the men the first night: I wasn't wowed, there was nothing that stood out for me. Nicole has a pretty voice and you can work her into a pop star, but really, it's about getting on stage and claiming your space.
Kimberly: My favorite from both nights is Jordin Sparks. I thought the judges were going to freak out over her and how amazing she is, but they were like, "You've got great potential for 17." I'm like, "No, she's amazing for any age." She owned the stage and looked like a star, like the winner of American Idol.

TVGuide.com: Of course, the early buzz is about Lakisha Jones, who had the cajones to go all Effie on us while Jennifer Hudson was waiting to realize her fate at the Oscars. Is there the risk that people will now forsake her when it comes to voting, and instead lend their support to underdogs?
Rosanna: I feel like one of the reasons that's not going to happen is because she is so human. She sang a big song and she sang it well, but you still feel like she's not cocky, and that engages us. I feel like, "Let's see what she's going to do next."
Kimberly: I'm like, "Lakisha is already in, nobody needs to worry about her going anywhere for a while," but that's the mistake people make. That's the mistake they made with Jennifer Hudson. "She's so good, we don't need to vote for her," and yet you do. But as of now, my favorite is Jordin.

Matt Richenthal is the Editor in Chief of TV Fanatic. Follow him on Twitter and on Google+.

Tags: American Idol