Jamie Lynn Ward Update: American Idol Contestant Story Called into Question
by Matt Richenthal at .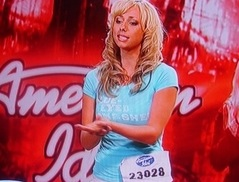 One of the most memorable
American Idol auditions
so far? It belongs to Jamie Lynn Ward in Birmingham.
Ward is off to Hollywood - but some question whether this is due to her singing ability or unique, sad background. For those who believe it's the latter, they may be dismayed to believe that Jamie's story - of taking care of a paralyzed father who shot himself and his wife after he caught his love cheating - may not be accurate.
The American Idol hopeful's step-mother, Beverly, wants to set a two things straight regarding the incident:
She was not cheating on her husband
He didn't shoot her because he caught her in the act
According to Beverly, her husband James shot her after an argument. She believes that alcohol, Valium, and stress contributed to his actions. As for hearing Jamie talk about the shooting on national TV, Beverly says she felt emotionally "destroyed."

Ward's grandmother, Sue also doesn't know what possessed Jamie to share her family's tragedy:

"I don't know if it was her nerves or if they just pressed her for her story."

The obvious, cynical conclusion would be that Jamie embellished the details in order to garner sympathy and move past the first round. But we hope that isn't the case.

Either way, with talents such as Sundance Head and Sarah Krueger ahead of her, we don't see Ward lasting long in Hollywood.

Matt Richenthal is the Editor in Chief of TV Fanatic. Follow him on Twitter and on Google+.

Tags: American Idol
From Around the Web