As a tear rolled down her face, Lakisha Jones received the news she so badly wanted to hear: She was an American Idol semifinalist.
The 27-year-old single mother and bank employee who hails from the blue-collar city of Flint long has dreamed of making it in the music business. Now, she is a step closer thanks to the hugely popular FOX TV talent show.
Jones, who bears both a vocal and physical resemblance to Aretha Franklin, also from the Detroit area, wowed the judges with a pair of the Queen of Soul's standards: "Think" and "Until You Come Back To Me." After her initial audition earned her a trip to the next round in Hollywood, Jones jumped into the embraces of her waiting family, snatched up her daughter and broke into tears.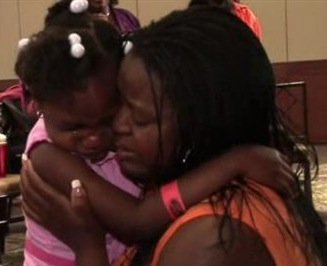 Even ultra-mean British judge

Simon Cowell

smiled. "Love this girl," he said. "Love you, Lakisha. You're a good old-fashioned belter."

FOX declined a request to interview Jones. But in her appearances on the show and a video posted on the American Idol website, she appears humble before the judges and passionate about her family — especially her daughter, Brionne, who turns four today.

"I just believe in being real, being who you are and staying strong in your beliefs," Jones said on the video.

Jones says the performer she most admires is Whitney Houston, who has had her share of ups and downs. She also identifies with Fantasia Barrino, a single mother who won in the show's third season.

"It's hard juggling, trying to live your life dream of becoming a singer and also being a mom, a full-time mom," Jones said.

Jones' grandmother, 89-year-old Ruth Morris of Flint, recalled how Jones' passion for singing has grown since she got her start at age five at Flint's Mount Zion Missionary Baptist Church.

"She is a person that loved people and she's always been great, wonderful," Morris, who was among the family members who traveled to the New York audition, said in a telephone interview. "She loves the Lord, she loves the singing."

To continue reading this article, click here.

Matt Richenthal is the Editor in Chief of TV Fanatic. Follow him on Twitter and on Google+.

Tags: American Idol