Paul Kim is bringing pride Saratoga. The resident of that city recently made it to the American Idol final 24. Below, he talks about the experience with the San Jose Mercury News:
Q: You seemed nervous during the Hollywood week tryouts. What was going through your head?
A: I didn't want to go home. I was trying to get myself ready and prepared, to not mess up, because I didn't do well in the group round.
Q: Why did you think you didn't do well?
A: I had a hard time with the lyrics. It was a song ("California Dreaming'') I wasn't really feeling. I messed up the lyrics and made up my own, and I guess they didn't even notice.
Q: Why is William Hung your motivation?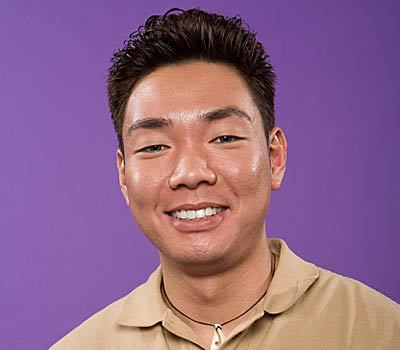 A:

At first [his performance] was kind of funny. Then they kept playing him over and over and over. It started bothering me. That's not what we look like, that's not what we sound like, that's not what we do. . . . That typical Asian stereotype: real nerdy, bookworm, unathletic, short in stature, the guy that never gets the girl. It just really bothered me how that's portrayed in television and film.

Q: What's with the lucky underwear and barefoot thing?

A: I'm not the best performer in the world, but once I have my shoes off, I feel like I can go into my little mood and just let go. And, with the underwear, it was just something that I did. It was like my lucky underwear that kept getting me through. I didn't want to make a big deal about it. Obviously, on the show, they made a big deal about it. . . . It's just something that I do because I'm a little superstitious.

Q: Now that you mentioned on-air that you are a pool boy, how do you feel about forever being known as that?

A: It's just what I do. I'm not extremely proud of it. I'm not ashamed of it. It's just what I do for a living.

Q: What was your experience with the American music industry?A: I had a demo made, and then I tried to shop it. People would approach me, call me, e-mail me back saying, "We really like your sound. We love the fact you wrote all these songs, but we can't market you.'' . . . They told me straight up, "If you weren't Asian, we would have signed you.'' It was the truth. I didn't get angry over it.

Q: How was your experience with EMI Korea?

A: I went to Asia in 2003, and it wasn't easy. . . . I was writing songs, then having those songs get translated. . . . It was a struggle with me and my music, because I am a soul singer, and they wanted me to do pop music.

Q: What was your path to American Idol?

A: After I got out of my deal, I'd given up on music for a whole year. . . . I'd quit school to go to Asia. . . . So for the time being, I went to work for my dad. . . . I did it for almost a year. It was back-breaking work (pool maintenance). It'll be raining. It'll be cold. Doing that, that opened my eyes. ``You can do music, so why not do it?'' So, I went online and saw that they were having that American Idol thing. . . . I actually left my house at 11 p.m. from San Jose, and drove straight down there to L.A. and got there at 5, 6 in the morning and got straight in line.

Q: What do you want to get out of this American Idol experience?

A: I'm here to prove that . . . music is heard, and it's not seen. I'm a little worried that for my time on this show, I'll just be known as this Asian guy . . . so I just keep saying, close your eyes and listen. I want people to get over the fact that (I'm) Asian and think, "Hey, he can sing. I like him.'' I want to be the soul singer on the show, or the tall guy on the show. Why do I have to be the Asian guy?

Matt Richenthal is the Editor in Chief of TV Fanatic. Follow him on Twitter and on Google+.

Tags: American Idol