On seasons four and five of American Idol, when the semifinals featured 24 singers, one-third of them were teenagers — eight each season.
When this season's semifinalists were named on Wednesday, only three of the 24 were in their teens: 17-year-old Sanjaya Malakar, 17-year-old Jordin Sparks and 19-year-old Stephanie Edwards.
The numbers prompt the question from MTV.com: Is Idol growing up?

Since raising the age limit to 28 for season four, singers approaching 30 have dominated the show, from Taylor Hicks, Chris Daughtry and Elliott Yamin to Bo Bice, Constantine Maroulis and Nadia Turner. And in season six, eight of the remaining contenders are 27 or older, including early favorites like Chris Sligh, Melinda Doolittle and Jason "Sundance" Head.Jacob Clifton, who covers American Idol for TelevisionWithoutPity.com, believes stocking the top 24 with older contestants is a practical decision from a television-marketing standpoint.
"I'm sure that the mean viewer demographic has increased in age over the six seasons of the show as it goes through the cool cycle, so I'd imagine that has something to do with it," he said. "People want to see themselves on TV."
"Because we saw so little of the Hollywood round, it's difficult to say much about the particular contestants," added David Bloomberg, editor of FoxesOnIdol.com. "But it did seem to be a particularly harsh Hollywood round, and it might simply be that the older contestants were better able to handle it than the teenagers."
"Idol" co-executive producer Nigel Lythgoe, however, was not so quick to say older singers have an advantage.
"I think you get tired and a little more jaded when you get older, and you feel as though it's your last chance, and that can be very emotional and affect you greatly in this competition," he said. "Whereas the 16-year-olds bounce from one thing to another, they don't know half the music they're singing."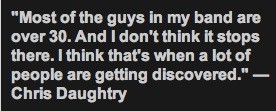 Lythgoe is fully supportive of how the contestants reaching the semifinals have been getting older each year, though. In fact, he wants to raise the audition age limit to 30 next season.

"I think [28] brought us some more maturity and a little more professionalism in certain areas and we're happy about that," he said. "I don't know why 28. I really don't know why 30, but I guess we're just about managing to cope with the hundreds of thousands [of applicants] that we're getting at the moment. Opening up any more and I'm frightened to death how many people we'll get."

"I think it's a great idea," Daughtry said. "I think there's a lot of great, talented, untapped talent out there that has been doing the bar scene for a long time. Most of the guys in my band are over 30. And I don't think it stops there. I think that's when a lot of people are getting discovered.""I don't think it's a bad thing," Katharine McPhee added. "By the time the record is out they're like 31, 32. By the time the second record is out they're like 35. But, hey, 30 is the new 20!"

And, finally, how would last year's winner feel about raising the age limit?

"I think it's a good idea, because the experience helps," Taylor Hicks said. "And you can never look too old either, take it from me."

Matt Richenthal is the Editor in Chief of TV Fanatic. Follow him on Twitter and on Google+.

Tags: American Idol