Pop songs? Gwen Stefani? Let's just say we're a bit more excited for this night than last week's British invastion theme ...
- Lakisha Jones wants to dance the "Last Dance" to start things off. The judges are positive, but we're feeling as though this great crooner has limited song range.
- It's rare when Chris Sligh admits that he's having difficulty - but that happens here after his rendition of a classic by The Police. Simon is especially displeased. The 'Fro Patrol will have to step up voting this week.
- Nothing too special about the next performance by Gina Glocksen in our eyes. But, wow, the judges all love it. Maybe it's just the Pretenders song that got us down.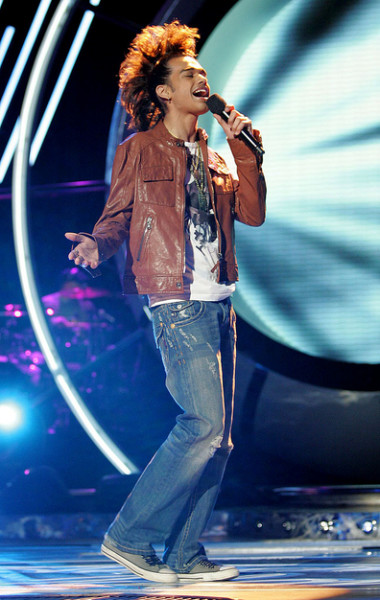 - Supposely,

Sanjaya Malakar

is singing right now. But we can't really tell. Far too distratced by that hair. If you can call it that. Anyway ... poor performance as usual. We're out of things to say about this guy.

- Maybe we're alone in this, but Haley Scarnato is making progress every week. This wasn't one of the best performances of the night, but it's good to see improvement from an artists on a weekly basis.

- Phil Stacey is great with his Police song ... but that doesn't mean he has any future as an Idol. With limited voice range, Stacey shouldn't remain in the competition much longer, tonight's solid singing be damned.

- While the crowd, Paula and Randy are in heaven over the job done by Melinda Doolittle, Simon correctly comments on her outfit choice. Sure, he's just trying to find something to criticize, but doesn't mean he's wrong in this case.

- Blake Lewis is in the finals, according to Paula. Simon says he's the best guy on the show. We can't argue with either statements.

- Hey Baby, Jordin Sparks chooses a No Doubt song. A fun one, too. The judges reward her for the risky pick, although it wasn't the easiest to pull off on Idol.

- We'll close the night with Chris Richardson. Who sings well. But he doesn't stand out too much and we fear he may end up back in the bottom two on the results show.

Matt Richenthal is the Editor in Chief of TV Fanatic. Follow him on Twitter and on Google+.

Tags: American Idol