It's finals time, fans. Let's see if anyone can take the favorite's throne away from Melinda Doolittle ...
- Ryan Seacrest is making us cry. Look at those past Idols! Let's get to the first audition please. Yadda, yadda, yadda, Diana Ross is a superstar.
- Go to your center, Brandon Rogers. It's gonna be okay. It might be better, though, if you act happy during this upbeat song. The judges agree. You never wanna hear the word, "boring," B-Rog.
- It's time for the woman simply known as "Mindy Doo." After some homophobic - albeit fairly witty - back and forth between Ryan and Simon, Doolittle once again sounds dominant. And, oh my, Paula isin tears. She can barely talk. Did Melinda just cure cancer or sing a song? Either way, we have a crazy feeling she's through.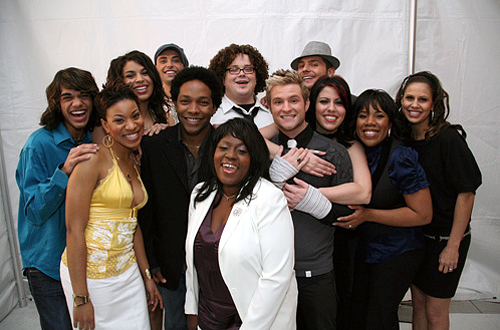 - Tough act for

Chris Sligh

to follow. Meanwhile, he's shed his glasses in order to prove just how endless this love truly is. The judges despise it. And he seems to take a dig at Ross. We like this guy, but he's got an ego.

- We're not saying Gina Glocksen is lying ... but is she really that big a fan of Diana Ross? It's not really her style. The judges don't seem to love or hate her. That actually came back to hurt Sabrina last week.

- Sanjaya Malakar is all "love" according to Ross. The most exciting part is sung by the back-up singers. Seriously, America, can we end this experiment now? Stop feeling sorry for this fella just because the judges keep tearing him apar. Maybe they're simply right.

- A viewer has a question for Haley Scarnato. The craziest place she ever sang? Right here, right now, of course. Wow, she's speechless, on the verge of tears. She forgot the words and was pitchy ... and will probably be voted out instead of Sanjaya. Grrrr.

- Phil Stacey appears to have a fan in Diana. But will the in the fans and judges? Randy says it was the best vocal of the night. Really?? Phil rarely does anything for us.

- Please, Lakisha Jones, give us something to get excited about on this night. She chooses "God Bless the Child" and the judges seem to enjoy themselves.

- Blake Lewis takes on "You Keep Me Hanging On," a song that's been done by The Supremes, Vanilla Fudge and Rebe McEntire. As is the theme all night, quality, but nothing too special.

- Let's see what Stephanie Edwards can do. Maybe she can gain some ground on Lakisha and Melinda. But the uptempo part seems to have missed a lot. This night isn't proving to be anything too exciting for us.

- Wow, Simon really hates Chris Richardson tonight. Did he love anybody? He was nicest to Haley it seemed like. Odd.

- Ah, finally. Jordin Sparks gives us something to be excited about. She may have climbed into the top group tonight. Someone had to step up.

Our pick to be voted out: Sanajaya. It has to happen ... right?!?

Matt Richenthal is the Editor in Chief of TV Fanatic. Follow him on Twitter and on Google+.

Tags: American Idol