We hope the American Idol women have brought their A-game. After all, the men proved last night that this may not be a one gender race after all. So let's see how the fairer sex fares right now ...
- Wait, was that Antonella Barba walking in? She sings, too? Who knew?
- Gina Glocksen kicks off the program by dedicating her song to her boyfriend. And by taking the bold step of singing a song Carrie Underwood performed back in the day. Solid work.
- We like the emotion of Alaina Alexander. But we fear for the safety of her tears ducts if she continues to earn your votes. The singer may not be ready to make nice, but are the judges ready to during their critique? Not really, led by Randy Jackson. They dislike her pitch ... but not her looks.
- And now it's time for the overwhelming favorite so far: Lakisha Jones. We'll ignore her grandmother's "luv" for Ryan Seacrest for the time being and focus on the midnight train to Georgia Lakisha keeps singing about. As the judges agree, this is one train that'll be sticking around the competition for awhile.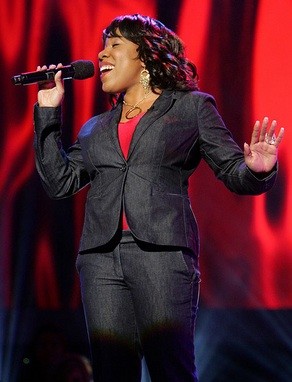 -

Melinda Doolittle

(pictured) talks about her two best buddies before taking the stage. Which she owns, by the way. This is one confident crooner. We doubt that confidence will be shaken much after being anointed the new front-runner by Cowell and crew.

- Hopefully, fans will put down their Antonella Barba photos long enough now to actually listen to this vixen's voice. She says she needed to pick a better song than last week - and then raised her own bar quite a lot with a Celine Dion tune. We're scared to hear the judges' views on this train wreck.

- Ouch. Those weren't difficult to see coming.

- Whoa. Wet T-shirt girl comes out swinging by saying that Simon was wrong about Jennifer Hudson. As Cowell correctly responds, Antonella, you basically just dissed American voters instead. Good thing the males were probably too busy drooling to notice.

- Let's see if Jordin Sparks can calm things down. She's our underdog at the moment. And doesn't let us down.

- Paula may have broken her own complimentary record by calling Jordin a great "human being." We guess she seems nice.

- Stephanie Edwards is sweet. But is also the only contestant so far NOT to break down during her dedication. Maybe that actually makes her the most sincere. And, hey, she even coaxed an agreement out of Paula and Simon. This gal ain't going anywhere.

- Leslie Hunt looks to be channeling Blake Lewis. We know she's "feeling good," but evidently she's feeling like scatting, too. We weren't fans.

- And now let's hear from Haley Scarnato. She aims high with Whitney Houston. Doesn't fall flat. But doesn't soar over the clouds, either.

- Finally, Sabrina Sloan ends things on a fairly high note. She may be one of the more unknown women, but that just underscores how talented these females are.

Our picks to be voted out tomorrow night: Haley and Antonella ... unless teenage boys start dialing like crazy.

Matt Richenthal is the Editor in Chief of TV Fanatic. Follow him on Twitter and on Google+.

Tags: American Idol