Verne Gay of New York Newsday thinks so. He's what he has to say about Melinda Doolittle ...
TV critics don't have much else to do they often sit around thinking deep thoughts about Jack Bauer's mental health or that amazing bathing suit Tyra Banks wore on "America's Next Top Model."
But sometimes they get bored and switch disciplines altogether. Forced to watch American Idol every week, they dive really deep and wearily wonder, will a truly great female singer ever emerge from this pleasant little talent contest? (Considering the woeful male turnout this season, they almost never bother with the question about a potential Sinatra.)
I'm not just talking "good" or "terrific" or "swell." I'm talking Judy Garland-great. Lady Day-great. Or ... Dinah Shore ... Peggy Lee ... Barbra Streisand ... Julie London ... Aretha Franklin ... Lena Horne ... Gladys Knight ... Put your own favorite name here.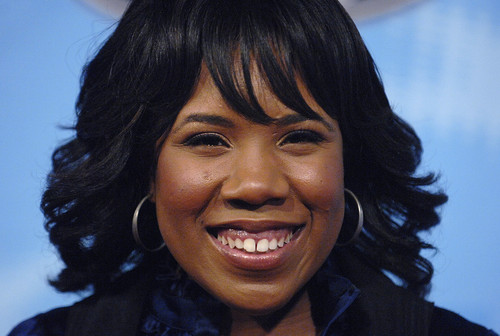 Or, dare I even think such a blasphemous thought: Could

American Idol

even turn out another Ella Fitzgerald?

Reflexively, the answer is - no way, dumbkopf. The great ones typically have other means of career advancement beyond Idol. It's called "an agent."

But what if ... what if ...?

This is why one Melinda Doolittle, 29, of Brentwood, Tenn., is the single most electrifying performer on American Idol in six seasons.

That Doolittle has already won American Idol is a foregone conclusion. Everyone knows this, or everyone should know this, or everyone will know this in just about two months' time.

But here's the more remarkable thing to consider. Doolittle is, indeed, the potential Great One. She is not merely the finest singer from this season - there is absolutely no point in debating this - but the finest singer on Idol ever.

There's no debating me on this either. Of course, you won't take my word, nor should you, so go to YouTube and check out some other so-called landmark performances, like Fantasia Barrino's "Summertime" or a couple of standards sung by Jennifer Hudson, both during the show's third season.

In the cold light of YouTube, they are merely OK.

Go back to Kelly Clarkson or Carrie Underwood.

Yeah, good. Nice. Fine. Ho-hum. Yaawwwwnnnnn.

Now, go to Melinda Doolittle.

Two weeks ago, she sang Charlie Smalls' "Soon As I Get Home" from "The Wiz." This is a technically difficult song, full of sudden key changes, and tempo breaks, and encompasses pretty much the entire musical scale, while the singer foolish enough to attempt it must maintain absolute command over every single note, or risk demolishing in an instant the spell it casts.

Click here to read the rest of this article.

Matt Richenthal is the Editor in Chief of TV Fanatic. Follow him on Twitter and on Google+.

Tags: American Idol