Mark Burnett - the man behind Survivor, The Apprentice and Are You Smarter Than a 5th Grader? - has gone al skull-and-crossbones for his newest show, Pirate Master. It premieres May 31 on CBS.
The 13-week buccaneer series, hosted by Australian actor/musician Cameron Daddo, stars "16 people who all agree that had they been born 250 years ago, they would have liked to be pirates," as Burnett (pictured) tells TV Guide from the Pirate Master set on the Caribbean island of Dominica.
Contestants will live on a 179-foot-square rigger for 33 days while they search for buried treasure totaling $1 million. The game is based on a story Burnett has devised about a mythical pirate - one "Captain Steel" - who had supposedly divided treasure equally among his crew and buried it on Dominica.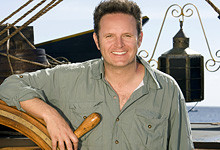 "Each man returned to the ship with a set of maps and hid them in a chest with 14 compartments, and it was only a few weeks ago that the chest was recovered," he says. "So the contestants are sailing to a different destination each week around the island looking for the treasure."

It's a mix of the mind games of Survivor and the extreme physical challenges of Burnett's Eco-Challenge.

"It's a huge - and hard - adventure, with jumping off waterfalls, swimming up canyon lakes and crossing mud-filled jungles," Burnett says. The show's appropriate motto? "Watch your back." As Burnett notes, "Pirates have their own rules, and while they need to work as a group on the expeditions, you never know who's going to stab you in the back."

The wannabe brigands dress in period costumes, eat such yummy authentic food as gruel and are ruled over by an elected captain who assigns roles to the crew members and can be overthrown if he doesn't treat his crew well.

Each week at "Pirate's Court" - which is, according to Burnett, modeled after actual tribunals - a player is cast off the ship and set adrift on a raft. "If you can't run with the crew, if you can't swim or row or navigate, you're a liability."

The pirate crew, says Burnett, is made up of eight men and eight women. Among them: "a very tough Nigerian who became an American and a former Navy rescue swimmer, who's currently a smoke jumper. Everybody's a good athlete, but what they've learned is that to be a great pirate, you have to be really smart."

In one twist, about half the money - gold coins - will be distributed to the players as they locate parts of the hidden treasure.

"It's a lot of fun, a great summer yarn. It's fantasy meets reality," says Burnett, who wrote the show back in 2003, adding "It's a big endeavor to pull off."

Matt Richenthal is the Editor in Chief of TV Fanatic. Follow him on Twitter and on Google+.

Tags: Reality TV