When Haley Scarnato blanked on the lyrics to "Missing You" on American Idol, Sy Smith did everything she could to help. When Chris Sligh lost the rhythm on more than one song, Sharlotte Gibson was there for him.
And when contestants want to borrow professional gloss for their performances, backup singers Smith, Gibson and Kenya C. Hathaway are ready to deliver.
The women, who routinely work with the likes of Beyonce and Mariah Carey, are the American Idol equivalent of a Charlie's Angels musical rescue squad, doing everything within their power to make would-be stars shine.
They've been regulars with FOX's hit series since it switched from canned tunes to a live band in 2005 under music director Rickey Minor. If they've gotten more attention this season it may be due to Melinda Doolittle (pictured), who's gone from a career as backup singer to top contestant.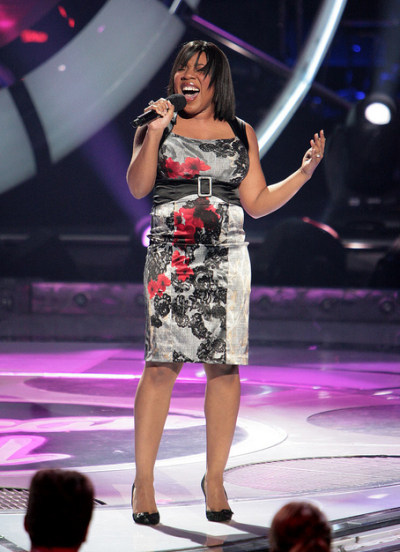 Gibson, Hathaway and Smith have deserved applause all along, said Minor, who's worked with them on a variety of award ceremonies and concerts since the late '90s. The women met each other on auditions and clicked instantly.

"There's a reason it's these three girls in particular," Minor said. Of the 100 or so backup singers the in-demand director calls on for his gigs, they are always the first choice.

"They have such a unique way of studying the material, learning it, and then there's their blend. ... Their pitch and intonation is so spot on," he said.

Over lunch at a restaurant down the street from the American Idol soundstage, the three are as much in sync as when they're vocalizing. They laugh together, pick up neatly on each other's thoughts and aren't shy about "tooting our own horn," as Smith puts it.

"Toot toot! Beep beep!" Hathaway and Gibson chime in, laughing.

Doolittle's timidity and awkward emergence from background vocalist to soloist is more a function of her own personality than the nature of backup singers, the women assert.

"I'm a big old ham," Smith said, laughing.

"As long as it's a place I want to be, I'm OK with I'm in the back and I'm OK when I'm in the front. The heartbreaker is when the music's not good," Gibson said.

The women are so very good at what they do that some viewers have wrongly guessed their voices are prerecorded. They're so good that they've been asked why they haven't entered the talent contest.

They already have satisfying careers, thank you: What viewers see is just a sliver of their professional lives and a taste of their distinctive voices.

Hathaway, whose late father was gifted soul singer Donny Hathaway ("Where is the Love?" and "The Closer I Get to You" were among his hit duets with Roberta Flack), has toured with George Benson as a percussionist and singer and worked with k.d. lang and Brian McKnight.

Gibson has performed with Beyonce, Mary J. Blige and Celine Dion and fronts her own band, Sharlotte's Web. Smith has performed with Whitney Houston and Macy Gray, tours with trumpet player Chris Botti, does TV commercials and sang on Ally McBeal.

Both Gibson and Smith have brought out CDs with songs they've written and perform.

American Idol isn't "everybody's path," said Smith. "For me, personally, as an artist, I feel like it would compromise my artistic integrity to audition for a reality show. I'm an artist first and foremost, not a singer first and foremost.

"This show isn't about finding artists. It's about finding stars, and that's a totally different thing."

That said, they're generally pleased to be part of the American Idol machine that churns out TV's top ratings and instant names like Kelly Clarkson and Carrie Underwood. Hathaway gets her greatest satisfaction from Minor's band, which she said could teach a master class at her alma mater, Berklee College of Music in Boston.

"It's a musical education on that stage. Every week is special to me because this band flawlessly moves through genres and styles," she said.

Smith agrees. "When people like Diana Ross, Stevie Wonder, come on the show, I think to myself this is something I can tell my grandkids someday. I can tell them I was part of the Rickey Minor band."

Given the uneven contestants, the show can also be entertaining in unexpected ways ("I'm always amused," Smith said.) The latest eye-catcher is teenager Sanjaya Malakar, whose increasingly madcap hair styles and borderline vocals have left his boosters undaunted.

Watching a tape of Malakar's audition performance, Gibson understood why his megawatt smile and a "voice that was smooth and sweet" got him on to the show.

"He had a nice tone and you think there's going to be more," she said. "There isn't always more in his voice, but he's consistent with his sweetness."

The trio relishes contestants who approach the task prepared. This year, that includes Phil Stacey, Doolittle and LaKisha Jones. From seasons past, they fondly recall Vonzell Solomon, Anwar Robinson and Paris Bennett.

Solomon "loved music and it just came out of her. It's fun backing up people like that, people who come out there and give it all," Gibson said.

SOURCE: The Ledger

Matt Richenthal is the Editor in Chief of TV Fanatic. Follow him on Twitter and on Google+.

Tags: American Idol