Before the final seven battle it out on American Idol tonight, let's hear from TV Guide's experts once more ...
TVGuide.com: First, a moment of silence for my Haley Scarnato....
Rosanna Tavarez: Are you kidding?
TVGuide.com: Well, c'mon, she was fun to watch....
Rosanna: No, she was fantastic! But a moment of silence is a little much. [Laughs]
TVGuide.com: On a scale of 1 to 10, how do you rate Latino-music week? I found it a bit disappointing, considering the promise.
Rosanna: I just wish there were more Spanish songs, for which I commend our little Sanjaya. I was glad to see that he did a bilingual version of "Besame Mucho." But all in all, I thought they did well; the judges were just very harsh this week, especially Simon.
Kimberly: I really enjoyed it! I heart J.Lo! I thought everybody spiced it up. I loved Jordin Sparks, but the judges didn't give her rave reviews. I was confused because I thought her vocals were rockin'. And personally I really enjoyed seeing LaKisha letting loose and shaking her groove thang. Sanjaya really stepped up and proved he deserved to be there, so good for him! I give this week a 7.5 or 8!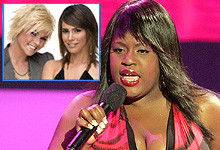 TVGuide.com

: I guess one factor was that the songs a few of them chose weren't really singer's songs....

Rosanna

: Both of the Miami Sound Machine songs are extremely percussive in terms of how they're sung. The focus is more about the rhythm and syncopation, and not singing all diva or wailing.

TVGuide.com: That said, who most wowed you out of the gang?
Rosanna: I really liked Blake Lewis and I liked Chris.
Kimberly: Jordin is always on her A-game, and Blake was, as usual, very entertaining! Love those saucy moves!

TVGuide.com: And who aside from Haley do you think suffered the biggest setback?
Rosanna: Phil Stacey. I feel like he's a really good singer. If you didn't watch him perform and just listened to him, I thought his vocal performance was great. You could argue that he's just thinking too much while he's singing, but vocally he did a fantastic job.
Kimberly: Phil took a hard hit this week, but I think it was the wrong song for him. He's naturally talented and you can't take that away from him! Also, I'm not getting how Chris R. is in the bottom three all the time. He's such a sexy little thang and that boy can sing. I guess somebody's gotta be standing there!

TVGuide.com: Simon made headlines a few days ago by saying that this year's crop is by no means the best Idol has ever had. In your opinion, what have been the strongest and weakest seasons of Idol?
Kimberly: Well, obviously my favorite was Season 2 because those are my people! I was so lucky to be put in a group with real artists. There hasn't ever really been that weak of a season because the show became and stayed No. 1.
Rosanna: I haven't seen all the seasons, so I can't answer the question accurately. But I've spoken to other people and they've also said that this season is not exciting them as much as other seasons.

TVGuide.com: I just don't see the finals coming down to two sensational and Idol-worthy singers. I think it will be two very different types, and people will just choose which type they like better.
Rosanna: I don't think that it's because they're not Idol-worthy - there are three very, very strong vocalists [in the mix]. The issue is that this year lacks variety. There's not a distinctly country person, there's not a rock person.... They're all pop in different guises.

TVGuide.com

: Another grousing of Simon's is that the singers no longer necessarily seem to play to win, that they have seen and now trust that just making it this far will get them a deal and jump-start their career. Do you agree or disagree?

Rosanna

: To an extent, I agree. Are they aware they can do very well on the show and not necessarily win and still have a successful career? Everybody is aware of that. Does it reflect in their performance? No.

Kimberly

: I definitely think that being in the top 10 will get your foot in the door, but it sure won't keep you there. Look at the past seasons — some make it and some don't. You still see some of the former [contenders] who have won and not won... on the charts, in the magazines and on television, but that's because they work their butts off to continue working in the industry. It's all up to you to make something of yourself once the show wraps.

TVGuide.com: Random thought: Do you think Randy gets bummed that it's always about "Simon is mean," "Paula is loopy," "Simon and Paula said this about each other"?
Rosanna: That only happens because the real tension is between Paula and Simon. They're opposite ends of the spectrum and Randy is somewhere in the middle. Maybe that's why poor Randy gets lost in the mix. But Randy coined a term I like better than Simon's "wow factor" — the "yo" factor. It was great.
Kimberly: Randy is so easygoing and has nothing to be sad about. He gets paid very well and is on the No. 1 show in America.

TVGuide.com: This week's theme is country, with guest mentor Martina McBride. What has history shown us about country week? With no outright Picklers, Underwoods or Covingtons in the bunch, is it anybody's game or does a certain noncountry type tend to excel?
Kimberly: Martina is def one of my idols! Bi-i-i-i-ig voice! People who don't normally sing country definitely have to step out of their comfort zone. Sometimes people step up and shock us this week and sometimes people are a little out of their element. If they are the next Idol I'm sure they'll be able to pull through this week.
Rosanna: I'm just curious to see if Sanjaya is going to have Dolly Parton hair this week.

TVGuide.com: I was actually going to wager you 50 bucks that he comes out in a 10-gallon hat and chaps.
Kimberly: Oh, god help us!
Rosanna: No, he needs to work the hair. It's going to be Dolly Parton, I'm telling you.

Matt Richenthal is the Editor in Chief of TV Fanatic. Follow him on Twitter and on Google+.

Tags: American Idol