Someday, American Idol Worship will gain backstage access to our favorite show. But for now, we turn it over to TMZ.com, the celebrity gossip site that enjoyed just such an honor Tuesday night ...
After going through metal detectors, checking our cell phones/cameras at the door, and depositing our gum into the CBS Studio page's blue cup (no gum chewing allowed on camera), TMZ was ushered to our seats. Celebrities in the audience included Eva Longoria, Sharon Osbourne, J.Lo BFF Leah Remini, and most interestingly, 80s TV bad girl Donna Mills.
Remini brought some of her tough Brooklyn girl edge to the Idol set, as staff made an entire row get up and move so she and her hubby, Angelo Pagan, could sit on the aisle. When a page tried to get Leah to dispose of her gum, she shot him an evil death-ray look that sent him cowering back to his post. The power of Xenu!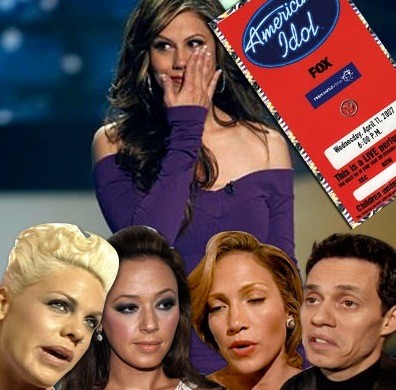 Booted Idol hopeful, curly-haired Chris Sligh entered the studio and the crowd roared with applause and cheers.

Sligh must be a huge fan of King of Queens, because he made a beeline for Remini and introduced himself. Pre-teen fans roamed the set asking for autographs from ex-Idols like Sligh, Alaina Alexander (who traipsed around in trollopy red five-inch heels), and Season 5 diva, Mandisa, membah huh? Some Fanjayas even approached Sanjaya Malakar's sexy sister Shyamali for her John Hancockakar!

Just prior to going live, judges Simon, Randy and Paula entered the studio while high-fiving fans with their burly bodyguards in tow. When they weren't on camera, guards never left their sides - never underestimate those menacing soccer moms! Say what you will about Ms. Abdul, but the foil-wrapped woman made it a point to go up to fan after fan during commercial breaks, while Randy and Simon waved from their perch.

Last night's Akon performance was not live. The studio audience watched a pre-taped performance on a screen, just like everyone at home. Before J.Lo's performance, Longoria chatted up Remini and her husband, while Simon and newly-named America's Got Talent judge, Sharon Osbourne, kibbitzed on the side. Taking bloody notes?

Everyone was on their feet when Jennifer appeared on stage and sang her new Spanish-language single "Que Hiciste?" The fiery performace filled the studio with so much smoke, that production staff scrambled to air out the set by the end of the next commercial break. Muy caliente!

When Ryan Seacrest revealed that Phil Stacey was safe, Sanjaya's mom and sis let out cheers. Apparently, they weren't Haley Scarnato fans either!

After the show ended, producer

Nigel Lythgoe

announced that Mr. J.Lo, Marc Anthony, who was backstage supporting his wife, was asked at the last minute to tape a humorous segment for the upcoming

Idol Gives Back

charity special. Marc obliged and lip-synched a version of "Stayin' Alive" by the Bee Gees in front of a green screen. It seems that rumors of the demise of the musical marriage are just that - rumors! Chisme!

The final surprise of the night came with one more unannounced performance; Pink was in the house to tape a segment for an upcoming episode (like Akon). Simon, Paula and Randy didn't stick around for Pink, so audience members sat in for the trio.

Matt Richenthal is the Editor in Chief of TV Fanatic. Follow him on Twitter and on Google+.

Tags: American Idol