We've already posted a review of the new Bucky Covington album. But here's a brief track-by-track critique of each of the songs on the CD ...
American Friday Night: Sets a recurrent theme of good-old-boy rural-life nostalgia, which may reflect Bucky's background but also forms the subject matter for every third song you hear on a country album these days. So if the song itself isn't gripping (this one comes close with its rock edge, but falls short), it becomes a little too familiar.
A Different World: The single, and I'm liking it better musically in the context of the album. A bit lush in the production, but a likable song, if one better suited to a sour old coot in the 50+ demographic than someone who just came off of American Idol.
I'll Walk: Only in country music do you get tearjerkers built on clever wordplay like this. Some people can't stand 'em, but I'm fascinated by the structure and the songwriting artistry (or, if you prefer, contrivances). Built around the title declaration, the song has, in the first verse, the female protagonist saying she'll walk home after a fight with the singer; then, after a speeding car deprives her of the use of her legs, she declares in the second verse that she'll walk again someday; finally, in the last verse, she looks up from her wheelchair as her daddy prepares to walk her down the aisle to be wed to the singer, and says -- you guessed it -- "I'll walk."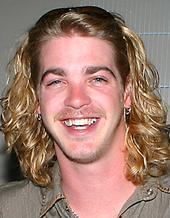 Back When We Were Gods

: Nostalgia for the good old high school days, but merely a routine rocker.

Ain't No Thing: A dull, overlong, overproduced rocker that's almost saved by an impassioned guitar solo.

I'm Good: More clever wordplay, attached to a sprightly Southern pop tune that reminds me a little of Arthur Alexander's oldie (the hit was by Steve Alaimo) Every Day I Have to Cry.

Empty Handed: A morality tale that's probably the best rocker on the record.

Hometown: A bucolic, nostalgic reverie that sort of lulled me to sleep.

It's Good to Be Us: Promising, rockin' celebration of carefree, penniless youth (cf. Back When We Were Gods) that's let down by a strictly ordinary chorus.

Carolina Blue: Fond reminiscence about the girl the singer left behind in Carolina when he went to Hollywood. Sounds like a future single; strictly assembly-line country.

The Bible and the Belt: Tribute to the educational value of scriptures, gospel singing and corporal punishment, the second of which threatens to overpower a fairly slight rocker.

Matt Richenthal is the Editor in Chief of TV Fanatic. Follow him on Twitter and on Google+.

Tags: American Idol