American Idol season-4 winner Carrie Underwood helped Dallas Cowboys quarterback Tony Romo celebrate his 27th birthday in Dallas over the weekend – and the pair looked very cozy, sources tell People magazine.
Could the romance each has denied be surfacing now?
The two showed up together Saturday night at Dallas's hip Ghostbar, where they were joined by nearly the entire Dallas Cowboys team.
"Carrie and Tony were having a great time in the deejay booth," an insider said. "They were laughing, singing together, holding hands and their arms were around each other all night."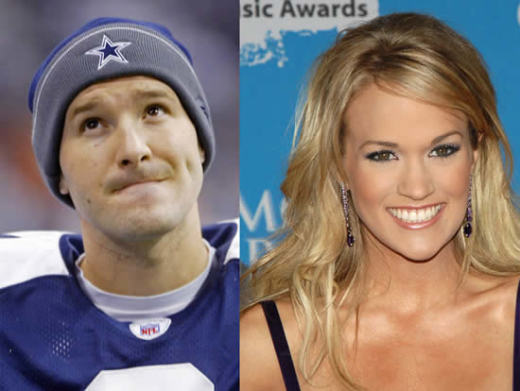 A spokesperson for Underwood, 24, confirms that the Grammy winner was on hand to celebrate Romo's birthday. Asked if they are dating, rep Jessie Schmidt told People: "They have recently been spending a little time together." But, says Schmidt, they are "definitely not boyfriend/girlfriend. It's very casual at this point. It's [in the] really early stages."

At Romo's party, the VIP section of Ghostbar was closed off for the football star's guests, who had their own private bar and seating area. But Underwood and Romo didn't stay in seclusion: They ventured into the deejay booth before midnight, where they played tunes and led the crowd in a loud version of Twisted Sister's hit "We're Not Gonna Take It."

"They sang and everybody joined in – I mean everybody," a rep for Ghostbar says. "It was pretty funny."

Underwood and Romo stayed in the deejay booth for around 45 minutes before returning to the VIP area. "They definitely weren't keeping their relationship a secret," says another insider.

And Underwood put her singing talent to good use when she led the entire club in singing "Happy Birthday" to Romo. The club also had "Happy Birthday Tony Romo" posted on all its video screens.

This weekend was not the first time Underwood and Romo have been spotted together. On Christmas Day, she showed up to watch the Cowboys play the Eagles, and Romo was spotted hugging her before the game.

But in February, the football star told reporters at a pre-Super Bowl press conference that he and the singer weren't an item. "She's a very nice, sweet girl, I care for her and whoever ends up with her will be a very lucky guy," he said at the time.

A call to Romo's rep was not immediately returned.

Matt Richenthal is the Editor in Chief of TV Fanatic. Follow him on Twitter and on Google+.

Tags: American Idol