A contestant will join Gina Glocksen in the land of the unwanted after tonight's American Idol results show.
In the meantime, suburban Chicago newspaper, The Naperville Sun asked readers to send their best to Glocksen shortly after the 22-year-old resident had been voted off the show. Here's a collection of e-mails submitted by readers.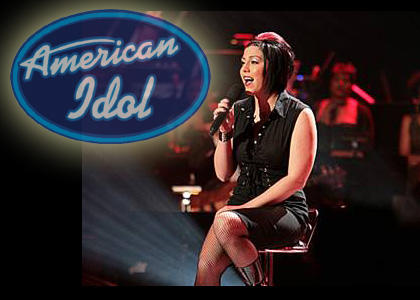 I just wanted to congratulate you on your appearance on
American Idol
. It was awesome to see you perform on the show. I voted for you every time. You are phenomenal and have a great talent.
You should be so proud of yourself; some people would not have the opportunity to go as far as you did on the show. I was definitely shocked to hear Ryan Seacrest call your name. It was a sad day for both of us, but I know you will make your comeback someday.
- Cheryl R. of Minooka
As a fellow Naperville girl, I was shocked that you were voted off. I can't believe that some of them are still there - Haley, Sanjaya, Phil. This reinforces what I've read recently. You really sounded like Chrissie Hynde ("I'll Stand By You") and "Smile" was great also. It was bittersweet to see you singing that as your last song. Keep your chin up. I know that there is a recording company that will sign you up.
- Terri H.
I wanted to say congrats on making it as far as you did, although I think you really deserved to go much further. You were pretty much the only reason I watched American Idol this season. I think you're a real classy and talented act, and I know you have what it takes to have a long and successful career in music!
- Rock
Gina, wanted to let you know that we are very proud of the job you have done on American Idol. I am a 60-year-old grandfather and was introduced to the show by my granddaughters, sister and wife. I cannot understand the voting system that is being used. It is not for the talent. If it were, you would still be there. You have a wonderful voice and I am looking to hear more from you professionally as your career moves on.
- Charlie Earl, Naperville
I am a Naperville resident and I really liked you, and voted for you all the time. I know it's sad to see you go. You deserved to go further and Sanjaya does not deserve to get a better place than you. You got ninth place out of over 100,000 people! That is really good. I really want to see you tour with the Idols and I really want to meet you! My family loves you also. Good luck. - Elliott Borchardt, Naperville