We've already heard from Jaclyn Smith in regard to her show, Shear Genius.
Now, the star of Work Out, Jackie Warner, has written a blog about the most recent episode of that fun show. Here it is, courtesy of the official Bravo website:
Working out is very emotional for most people...skinny, heavy, man, woman. The mind body connection is very strong - meaning what we feel about others and ourselves is directly manifested in our bodies.
I make every client burst into tears. No, not because I am mean but because after so many years I have become adept at identifying core emotional issues and I address them head on. This skill comes partly from growing up with a mentally ill parent.
I feel that this was Erika's episode. She looks beautiful as "Angelina" and she deals so well with Meagan, her SkyLab client. Erica is what I call a career trainer and she has been with me the longest. She embodies what an exceptional trainer should be -- highly skilled, hard working, supportive yet tough and an example for clients to look up to.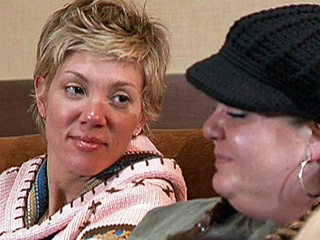 The grocery trip lasted three hours and was a blast! It's one of my favorite things to do with clients. It's so important for them to show me what THEY like to eat, and then I can make small changes or guide them in a smarter direction. I want people to understand that there are so many tasty healthy options out there and to also know that many of the foods they think are good for them are causing weight gain and depression. The SkyLab clients learned ALL about the evil of SUGAR! So my job is done! Haha!

Don't get me started with America's addiction to sugar!

I had a rough childhood (shocker) and the way I dealt with it was to go everyday after school to my local convenience store and buy bags of candy. I ate so much sugar growing up that I joke with my mom that my growth was stunted (both my parents are quite a bit taller). The two most important things to always consider when eating food are calorie content and sugar content.

Go buy "Sugar Blues" by William Duffy. It was first book of its kind and a really fun read

If I had known how hard it would be to create a grassroots clothing line, I probably would have waited until the show wrapped. I had no idea how hard that would be. And people have asked why I didn't blow up at Steve when the clothing wasn't right. He's a personal friend of mine, and I didn't want to blow up at him on TV, nor would I have done that to anyone. It would have been humiliating. For the record, I did, off-camera, sever that relationship.

I wasn't nearly as nervous as I looked at the meeting with the Paiva people. They have never been anything but great and supportive and I love working with them. And the really good news is that the line will be out at the end of June.

Matt Richenthal is the Editor in Chief of TV Fanatic. Follow him on Twitter and on Google+.

Tags: Reality TV