On April 5, Lauren Conrad received a shocking phone call.
A friend called to tell her about a report on Perez Hilton dot com claiming Jason Wahler was peddling a tape of them having sex.
"My friend started reading the item to me, and I literally could not breathe," Conrad tells Us Weekly. "I thought she was joking when she started telling me."
Though Perez Hilton says he confirmed the tape's existence with "multiple sources close to Lauren Conrad and Jason Wahler," the star of MTV's The Hills denies it.
"Honestly, they videotape my life five days out of the week," said Conrad, who's still in disbelief over the rumor. "I don't need additional footage, you know?"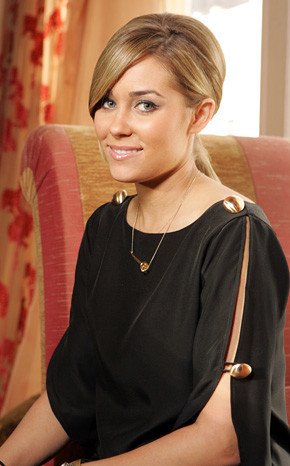 We know.

One thing's for sure. Whomever leaked the information doesn't like The Hills.

Either that, or they have a vendetta against Conrad.

Sources close to LC are pointing fingers at her former BFF and roommate, Heidi Montag, and her boyfriend, Spencer Pratt, who was Conrad's nemesis throughout the second season of The Hills.

The Laguna Beach native notes that Montag, despite their long history, was the one "friend" who didn't reach out to her after news of the alleged sex tape broke.

"This has literally been, like, the worst week ever," she said. "And someone who's supposedly my friend didn't even call or text me."

Nevertheless, Heidi Montag and Spencer Pratt, who moved in together on the season 2 finale, were interviewed by Us Weekly and denied any wrongdoing.

"It's sad someone would make up something like that, and even sadder people think we had anything to do with it," said the slimy, sucky Spencer Pratt.

"I feel horrible for Lauren, but I had nothing to do with spreading that false, disgusting rumor," Heidi said, seconding her lame boyfriend's statement.

Matt Richenthal is the Editor in Chief of TV Fanatic. Follow him on Twitter and on Google+.

Tags: The Hills
Want more The Hills?
Sign up for our daily newsletter and receive the latest tv news delivered to your inbox for free!
More From TV Fanatic
All good things must come to an end. In other news, The Hills aired its final episode last night.
The second-to-last episode of The Hills was boring and full of bogus drama. Then again, that's how the show usually is, but this episode more than most.
The Hills' 100th episode was not one of its best. The reason? Well, there are many, but to sum up, it's been about 20-30 episodes too many at this point.

The Hills continues to illustrate why this is its final season. It's clear out of ideas and interesting people.
---