While Kristine Lefebvre might be the beautiful reality TV show star of the moment (posing for Playboy will do that for you), let's not forget about the newest member of The Pussycat Dolls.
Asia Nitollano won The Pussycat Dolls Present: The Search for the Next Doll last week. And she recently sat down with Buddy TV to talk about it ...
For those that might not know, how did you end up being on the show and what exactly inspired you to try out to be the Next Doll?
Well I've wanted to be a performer since I was a little girl. I've been dancing and singing my whole life, so that's my dream. And then when I heard of the opportunity, that they were having auditions for another member, I went straight for it. You know, anything to complete my dream.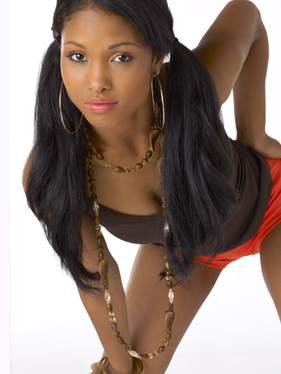 Throughout the competition you talked a lot about your daughter being your inspiration. Did you ever have second thoughts while you were actually in the midst of the competition?

I mean, of course you always have your doubts and everything, but you always have to keep going and never give up, you know, that's how you get anywhere.


You and Melissa R. were definitely at each other's throats [in the season finale]. Was there always tension between you two throughout the competition, and why do you think things seemed to escalate as much as it did when it came down to the wire?

I mean obviously the fight didn't happen until the end of the show. There was no real tension before that. I mean, it was a stressful situation. It was a competition. You know, we all had different emotions and you know it was in the heat of the moment. We got into an argument just like how any group of friends would, or your brothers and sisters would, and then you get over it afterwards.


So do you keep in touch with any of the girls from the show still?

Yes I do. The girls are great. They're all really great people. I really became close with Brittany and Melissa S. You know we speak all the time and I speak to Jamie and Mariela and you know, the other girls we text message each other. We still maintain a relationship.


So how much pressure were you feeling going into your final performances?

Oh, it was so scary. Especially being one of the final three you know, because you know that you're that close and it could be any one of you at this point. And you know, you just…you want to hit it, you want to nail it; you don't want to regret anything. So I was pretty happy with how things went.


After you did your solo performance, how confident did you feel about your chances of actually wining the competition?

I always had confidence throughout the whole competition but I also knew that the other girls were really great competitors and were talented as well. So I knew it could be any man's game, and you know, whoever won would have been deserving.


There's a lot of anticipation waiting for the judges to make their final decision. What was going through your mind during that time period?

I was just thinking of all the people that I love, you know, my daughter, my mom, my family. And I was just praying that it was me that won. You know, I didn't want to deal with any more rejection. I just wanted to win it, you know?


So how did it feel on stage performing for the first time officially as a Pussycat Doll?

It felt great. You know that's what I came there to do. I couldn't wait to get on the stage with those girls and I'm happy I had the opportunity just to be next to these talented, beautiful women. And it was an honor.

Can you tell us what's in store for you now? What happens now that you've become the newest member of The Pussycat Dolls? What can fans expect?
I really don't know what's going to happen next. I just won. I'm taking it all in and I'm excited so we'll be speaking with the label in a few and we'll see what happens from there.

Matt Richenthal is the Editor in Chief of TV Fanatic. Follow him on Twitter and on Google+.

Tags: Reality TV