Forget flowers. There's something a lot more exciting about to blossom this spring: a crops of new reality TV shows!
Here is a detailed recap of what sort of shenanigans you can expect to enjoy this season, featuring everything from dueling hairstylists to the scorned loves of Flavor Flav ...
Shalom in the Home (premiered Sunday, March 4 at 7PM ET/PT on The Learning Channel)
Forget Dr. Phil, Rabbi Shmuley Boteach is in the house! In each one-hour episode of this series second season, the parent, author and family counselor descends upon a different family afflicted by a damaged relationship. The bespectacled and bearded Boteach then takes the family on a 10-day journey to help them address problems with everything from marriage and parenting to sex and self-worth.
The Springer Hustle (premiered Sunday, March 4 at 10PM ET/PT on VH1)
After 16 years of national syndication, this eight-episode series offers a behind the scenes look at the salacious talk show's Chicago set. With tempers flaring and furniture flying on a regular basis, viewers might want to wear body armor for this one.
Dice Undisputed (premiered Sunday, March 4 at 10:30PM ET/PT on VH1)
Hickory Dickory Dock, Dice's career is a flop. Now he's on VH1 with a mouth like a gun and it's constantly ready to pop. Trying to resurrect his career as the "Rocky of Comedy," Andrew "Dice" Clay should instead be hoping this seven-episode series doesn't leave him down for the count.
The Girls Next Door (premiered Sunday, march 4 at 10PM ET/PT on E!)
These sure aren't the type of girls that live next door to me. Nevertheless, Holly, Kendra, Bridget and their sugar-daddy Hugh Hefner return for a fourth season of this E! reality series that offers a look at the inner workings of the Playboy Mansion.
Paradise City (premiered Sunday, March 4 at 10:30PM ET/PT on E!)
King Midas wearing a skinny tie, Ryan Seacrest is trying to prove everything he touches turns to gold with this new reality series produced by the American Idol host. With its cast showing viewers what it's like to live, love and work in Las Vegas, even if the seemingly unoriginal series flops it probably won't be enough to sink Seacrest's career.
Australia's Next Top Model (premiered Monday, March 5 at 10PM ET/PT on VH1)
Throw another reality series on the barby for VH1, as the network will begin airing the first season of Australia's version of Top Model. Here's to hoping Aussie runway wannabes have catfights that are just as entertaining down under as they are in the states.
Pussycat Dolls: The Search for the Next Doll (premiered Tuesday, March 6 at 9PM ET/PT on The CW)
Don't cha wish this new reality series didn't seem like a thinly veiled attempt to promote the Pussycat Dolls? Don't cha? As the all female music group/dance troupe searches for its seventh member, scantily-clad women dancing and singing will be the norm. promised.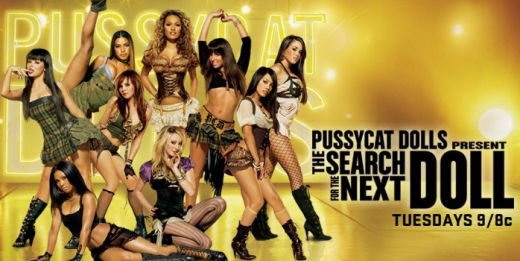 College Hill 4 (premiered Tuesday, March 6 at 10PM ET/PT on BET)
Billed as the "first ever Black reality show" when it premiered in 2004, the series is back for a fourth season. Drawing comparisons to MTV's The Real World during its first three seasons - it certainly won't shake that moniker this time around - as the focus will be on four native Virgin Islanders living with a group of California transfer students while attending the University of the Virgin Islands in sunny St. Thomas.
Style Her Famous (premiered Monday, March 12 at 10PM ET/PT on The Style Network)
Women receive makeovers inspired by their favorite celebrities on the second season of this reality series, with featured styles based on the looks of actresses Drew Barrymore, Scarlett Johnasson and Gwyneth Paltrow, supermodel Tyra Banks, and singer Beyonce Knowles, among others.

Adventures in Hollywood (premiered Wednesday, March 14 at 10:30PM ET/PT on MTV)
Hi jinks galore in this series, as the hip-hop group Three 6 Mafia leaves the comfort of their Memphis, TN home to make their mark in Tinsletown. Coming off the success of their 2006 Academy Award for "It's Hard Out Here For A Pimp" - an original song they wrote for the film Hustle & Flow - the members of Three 6 Mafia are hoping they don't get hustled all the way back to Memphis.
Intervention (premiered Friday, March 16 at 10PM ET/PT on A&E)
The third season of this docu-reality series continues to profile people across the country struggling with addictions. Just think Breaking Bonaduce or Shooting Sizemore without the celebrity gleam.
Dancing with the Stars 4 (premiered Monday, March 19 at 8PM ET/PT on ABC)
Three athletes, two singers, a former Miss USA, a talk-show personality, a United Nations ambassador, two actors and a supermodel will polish off their dancing shoes for the fourth installment of this reality competition series that's usually ripe with rumors about cast members hooking up. Though it's decided to stand clear of Fox' American Idol, the question still remains if last falls ratings juggernaut can continue its success.
Work Out
(premiered Tuesday, March 20 at 11PM ET/PT on Bravo)
Jackie Warner and the other personal trainers from Sky Sport & Spa return for the second season of this reality series. Other than following the trainers as they pump-up their clientele, the second season of Work Out will also show how the Sky Sport & Spa staff copes with the loss of fellow-trainer Doug Blasdell, who passed away in early January.

Tori & Dean: Inn Love

(premiered Wednesday, March 21 at 10:30PM ET/PT on Oxygen)

Finally abandoning a zip code that must have seemed impossible to escape for the former-Donna Martin, this six-episode series follows soon-to-be-parents

Tori Spelling

and husband Matt McDermott as they leave Tinsletown to become innkeepers at their own bed & breakfast in the picturesque wine vineyards of southern California. That's bound to end well.

Planet Earth (premiered Sunday, March 25 at 8PM ET/PT on The Discovery Channel)
This 11-episode mini-series, which is the culmination of five years of filming, documents everything from animal behaviors to startling views of locations across the globe captured by cameras for the first time. It doesn't get much more real than that.

Driving Force (premierd Tuesday, March 27 at 10PM ET/PT on A&E)
The first season of this reality series focused on drag-racing legend John Force as he tried to rekindle his relationship with his family. He apparently succeeded, as the upcoming second season shows his three daughters competing in various stages of hot-rod racing. Hot on pop's heels is 24-year-old Ashley, who looks to prevent her dad from winning his fifteenth NHRA Championship so she can claim her first. Should make for an interesting family reunion.

Dress My Nest (premiered Wednesday, March 28 on The Style Network)
This new reality series will determine if there's life after the soon-to-be-canceled Queer Eye for interior design aficionado Thom Filicia, as he'll host it minus the Fab 5. Using a person's favorite clothing as inspiration for the design of a living space in their house, the series could lead to a surge in polyester-themed parlors and bell-bottom-themed bedrooms across the country.

Flip This House (premiered Saturday, March 31 at 9PM ET/PT on A&E)
The third season of this reality series will follow a former NFL player in Connecticut, a pair of Texan brothers, and a Georgian mother as they work the real-estate market in their respective locations. Since the houses these moguls buy are re-sold almost immediately following their purchase, prospective buyers may want to have home inspectors do a double check to make sure everything's in order.

Sons Of Hollywood (premiered Sunday, April 1 at 10PM ET/PT on A&E)
Billed as a real-life version of HBO's Entourage, this new reality series follows the son of producer Aaron Spelling as well as the son of music legend Rod Stewart as they try to excel in the Los Angeles' entertainment industry. While these boys aren't actually rock stars -- they sure do know how to party like one - as both booze and drugs are apparently consumed regularly throughout this series.

The Bachelor: The Officer and a Gentlemen (premiered Monday, April 2 at 9:30 PM ET/PT on ABC)
What girl wouldn't want to date a 1995 ESPN Scholar Athlete of the Year, class valedictorian, Duke University graduate, undersea medical officer and triathlon competitor all rolled into one? That's the type of guy the lucky ladies on this series' 10th season will try to sink their paws into. Oh by the way, did we mention he's stationed in Hawaii?

Punk'd (premiered Tuesday, April 7 on MTV with an eight-episode marathon)
Pulling pranks on former NBA star Magic Johnson, actress Hilary Swank and singer Nelly Furtado apparently wasn't enough for the final season of this reality series, as MTV has decided to try and pull a fast on viewers by airing all eight episodes over the course of a spring afternoon. Forget spending the day outdoors and cozy-up with some old-fashioned shenanigans!

Shear Genius (premiered Wednesday, April 11 at 11PM ET/PT on Bravo)
Created in the likeness of Bravo's other reality-competition series Project Runway and Top Design, this eight-episode series will pit hairstylist against hairstylist in a battle of who can style the most fashionable coif. Considering contestants will be armed with scissors and curling irons, things may get ugly. At least no one will be using the Flowbee.

Flavor of Love Girls: Charm School starring Mo'Nique (premiered Sunday, April 15 at 10PM ET/PT on VH1)
School's in session for these 13 floozies, all spurned by Flava Flav during the two seasons of Flavor of Love. It's a safe bet that the majority of these girls could probably attend a prestigious finishing school -- not one where the headmistress is Mo'Nique -- and still be clueless on how to act like a lady.

National Bingo Night (premieres Friday, May 18 at 9PM ET/PT on ABC)
All the excitement of a fast-paced, action-packed Bingo game brought from nursing homes and church halls directly into your living room. Viewers at home can play along via ABC's website and may want to have gambler's anonymous on speed dial.

On the Lot (premieres Tuesday, May 22 at 9PM ET/PT on Fox)
Reality royalty Mark Burnett teams up with reality-television afficianado Steven Spielberg to create this American Idol-like talent search geared at finding the country's next great director. With "Film Premiere" episodes mirroring performance broadcasts and "Box Office" episodes mimicking results shows -- On the Lot certainly has similar content to Idol, but can it produce the same ratings?

Matt Richenthal is the Editor in Chief of TV Fanatic. Follow him on Twitter and on Google+.

Tags: Reality TV