It's time to hear from former American Idol contestant, Bucky Covington, again. Take it away, Buck ...
My album comes out in just two weeks. I've already told you about a few of the songs - maybe you've even heard me sing them. For the next couple of weeks, I'll tell you about some of the others.
I've got one song on there that I wrote with Mark Miller and Hobie Hubbard. Mark's a big basketball fan, and he had this idea for a song - Carolina Blue, since I'm from Carolina. But we didn't write it about basketball. It's a song about being out in L.A., chasing your dreams, watching everything fall into place, where everything's coming to you except the girl back home who you miss so much. So the idea of the song is she's the reason I'm Carolina blue.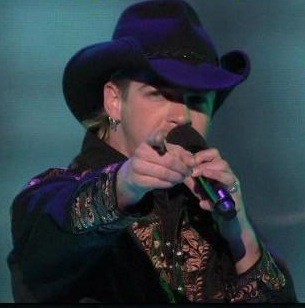 I wrote five or six songs, but I just had too many good songs coming at me. There are extraordinarily good songwriters in Nashville, and, bless their hearts, they sent me great stuff. When I hear a great song, I can't turn it away just because I didn't write it. I wanted a strong album any way I could get it.

Also, I think going with these other guys' songs made the album diverse. It kept it moving around.

There's one called Back When We Were Gods. You know, when you're in high school, and you're hanging out with all your buddies. You don't have a care in the world. You're doing your thing. You're just having fun. When I heard Back When We Were Gods, it said all that. That's what you felt like when you were back in high school. You could do what you wanted, when you wanted, and however you wanted to do it. Nothing mattered, and Back When We Were Gods said it just right.

I think I've mentioned one called The Bible and the Belt. But I don't think I've told you when we got it.

The night before we were going to go into the studio for the first time, we sat down to write out a list of the songs we were going to start recording the next day. We were in the office - it was probably 8 o'clock at night - and we were going through all the songs, listening, coming up with what we wanted on the album. One of my producers actually heard The Bible and the Belt around 6 o'clock and had to run over to this place and grab it so we could all listen to it. Then it actually made the cut.

It's a great song. It talks about how Mama's in the church, doing the choir thing and all that -- "Mama brought the Bible/Daddy brought the belt/Mama set the table/Daddy rang the bell/The preacher did his best to show me the light/But Daddy was the one that kept me walking the line. … One foot in Heaven and one foot in Hell/I found religion between the Bible and the belt." That was all too true for me.

If you go on my website - buckycovington.com – and preorder my album, I'll sign it for you. I've got something like 5,000 albums to sign so far. I might be a thousand into it -– maybe. I go through it pretty quick, whenever I can find time to sit down and do them. It's almost like a stamp. It's just a movement of the hand. But the thing I like about autographs is when you mess up a little bit, it just shows that it's authentic. It's not stamped.

I'll sit there on the bus, just signing and signing and signing, and everybody's like, "Boy, I wouldn't be in your shoes for nothing." I'll say, "Yeah, but you know what? If it'll sell a hundred thousand, I'll sign all hundred thousand." It doesn't matter.

Today, I'm taping a countdown show for CMT, and on Tuesday, I'm taping some shows for GAC. These will air in the next few days and weeks so check back at my website for when everything airs. I thought I had Wednesday off, but I got corrected quick. It's media day, which means I have a lot of interviews. Then I'm back on the road Thursday and Friday. Saturday I'm doing the Grand Ole Opry again, but this time, it's the televised part of the Opry. So I'll see you next week – and we'll be just one week out from the release of my first album!

Matt Richenthal is the Editor in Chief of TV Fanatic. Follow him on Twitter and on Google+.

Tags: American Idol