Let's hear from TV Guide's American Idol experts for the week ...
TVGuide.com: What was your favorite performance from last week?
Kimberly Caldwell: I really liked Chris Richardson. I thought he was fresh, and he's really been bringing his A game.
Rosanna Tavarez: Blake Lewis. I think he was very sexy, and he's the only person I could foresee making an interesting album.
TVGuide.com: Chris Sligh has revealed that after his edgy "Endless Love" arrangement was panned, he spoke to Idol's producers about quitting the show, because he'd decided it wasn't the right competition for an indie/alternative rocker like himself. Have we ever heard of anything like that before?
Kimberly: Of course, Mario Vazquez quit for some unknown reason, but is successful now. I think Chris S. was probably feeling overwhelmed. The judges had been really complimentary to him so far and he got really bashed and wasn't used to criticism. I think if he continued to get praised he would have never had that idea [of dropping out].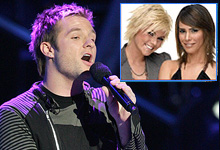 Rosanna

: It's interesting,

Idol

has been around for six seasons. Wouldn't you think that Chris would know [what it's like] by now?


TVGuide.com

: Sligh also said that he changed his mind on songs — he was originally going to do "Give a Little Bit," but wanted to challenge himself more — the preceding Friday afternoon. Just how "late" in the game is that?

Rosanna

: It is pretty late. Four days to put your imprint on a song is not a lot of time.

Kimberly

: You don't have a lot of time to rehearse to begin with, so changing after that long is not a good idea. You choose your song the week before you sing it so you have to pick the one that's right for you.

TVGuide.com: I opined in TVGuide.com's American Idol blog last week that LaKisha Jones may now be facing an uphill battle, that she didn't get the memo Melinda Doolittle obviously did — you need to get out there and have fun once in a while and not always sing each song so darn earnestly. Agree or disagree?
Rosanna: I agree. We get it — she's a soul-singing diva. But she definitely needs to liven things up a bit. We want to see different facets of your personality and your performance capability when you're on stage. Yes, she's amazing with ballads. Now it's time for her to pick up the tempo.
Kimberly: I think neither Melinda nor LaKisha have anything to worry about for a while. It's hard to go out there and really enjoy yourself when everybody's judging you and you know what's at stake.

TVGuide.com: Who do you think has the best momentum going into this week?
Kimberly: I think Chris [R.] and Blake are totally kicking butt and bringing something unique and new to the show that everybody really seems to be loving.
Rosanna: Jordin Sparks. She's young, she's fun, she's not pretentious.... I'm going to be looking out for her.

TVGuide.com: Conversely, who's skating on their thinnest ice to date?
Kimberly: Sanjaya may be what everyone thinks, but that boy doesn't seem like he's going anywhere!
Rosanna: Maybe Haley Scarnato....

TVGuide.com: Based on your own musical proclivities, if you could preorder one of the finalists' CDs right now, who gets your $15?
Kimberly: I love Jordin Sparks' voice. I could listen to her for hours.
Rosanna: I don't think "based on my musical proclivities" is a good premise for me to give you an answer. [Laughs] I mean, I was in a pop group but I don't really listen to Top 40. I might download a song of Blake Lewis' for 99 cents on iTunes, but I don't know about a whole record.

TVGuide.com: Both of you were jazzed to see the luminous Gwen Stefani last week. Did you score any face time with her?
Kimberly: I didn't get to meet Gwen! Ahhhhhh!
Rosanna: I got a one-on-one interview with Gwen, and I was on the edge of my seat the whole time. I've got to say, she's fantastic, she's a sweet woman, just fabulous. I had my dream come true!

Matt Richenthal is the Editor in Chief of TV Fanatic. Follow him on Twitter and on Google+.

Tags: American Idol