Adrienne Curry Angry Over America's Next Top Model Snub
by Matt Richenthal at .
Notice anything missing from this year's America's Next Top Model?
According to season one winner Adrienne Curry, fans have been noticing that she's actually missing from the show's opening credits. And don't think for one second this is okay with the somewhat insane beauty.
Here's her most recent MySpace blog: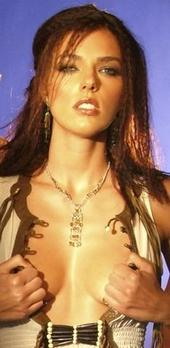 Yep, you guys were right, I am not shown on either the opening credits or featured on the walls of the house the girls live in. I frankly could give a s-it less. It seems very petty and immature for [

Tyra Banks

] & Co. to try to act like the first winner of their show never existed. All I did was raise my voice when I didn't get what I was promised. Were they THAT surprised that I would be outspoken about it? COME ON!

I have since extended the olive branch to them, told them I was sorry about anything hurtful I said (I was pissed!)....but that I was NOT sorry for outting them on their bulls-it.

If you look at my myspace profile, you will see that I posted a pic of TYRA and Top Model. Why? Because I am mature enough to realize that I wouldn't have been able to work to get where I am today if I hadn't landed that show. I give them credit where they deserve it ALL THE TIME. I AM grateful for what I did get out of the show.

However, unlike the winners after me, my show wasn't that popular. Not very many people watched the first season at all. It wasn't untill I had MADE A NAME FOR MYSELF and generated attention OUTSIDE of top model that people watched my season. VH1 started airing my season of top model AFTER The Surreal Life I was on had already finished. Top Model wasn't even originally on VH1!

So, I like to give myself credit for that. ; )

So, as much as they want to hurl insults my way and to "disown" me publicly, they can't change the fact that I was the first...and that I have worked my ASS OFF to climb to the top. It's been 4 years now, and I still have more press, work, etc then any of the other girls from the show.(Though Elyse is doing quite well in Hong Kong I hear). I am an international star now.

Top Model, Surreal Life, and My Fair Brady has airred in almost every country in the world. So, I THANK Tyra for what she did do for me...and for NOT giving me what I thought I would get when I won. If she had, I wouldn't have worked as fucking hard as I did to become as successful as I am. Never in my wildiest dreams did I think I would make it this far.

I am grateful beyond words! I will never forget where I came from...or what got me here. America's Next Top Model changed my life.

I am not mad at Tyra or Top Model for not putting me on there. It's her show, and she can make any choice she wants. I myself will not be taking her pic down off my page, I think it's stupid.

Matt Richenthal is the Editor in Chief of TV Fanatic. Follow him on Twitter and on Google+.

Tags: Reality TV
From Around the Web