One final time this season, let's hear from TV Guide's American Idol experts:
TVGuide.com: What's going through the finalists' heads right now?
Rosanna Tavarez: "I hope I win, I hope I win.... " [Laughs] "I hope I don't forget words during the finals."
TVGuide.com: Is it likely that at some point they'll freak out?
Rosanna: Of course they're going to. They're going to go to the Kodak Theatre and it's down to the two of them, so for sure they're nervous.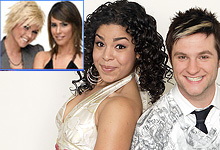 TVGuide.com

: Our TVGuide.com poll had 68 percent of people "very shocked" to see

Melinda Doolittle

go, and 16 percent "somewhat shocked." In which camp did you fall?

Rosanna

: Somewhat shocked. I know that Blake's got a lot of the chick vote, the girls who think he's cute and is "the next

Justin Timberlake

." Jordin also has a lot of the young crowd. Melinda's appeal is definite, but I'm not sure if she appeals to a lot of younger people in the audience.

TVGuide.com: Have you heard anything about the original song that will be part of each finalist's set this week?
Rosanna: The one from the songwriting challenge? It's supposed to be very inspiring — like every year.

TVGuide.com: Will it have some title like, "If Dreams Were Made of Candy-colored Wings"?
Rosanna: If it were called that, I would have to.... [Laughs]

TVGuide.com: Do you think Blake Lewis has any chance to pull an upset and win this thing?
Rosanna: Oh, he definitely has a chance. This is the second season where I feel I have no clue who's going to win.

TVGuide.com: I was looking at the past five finals. We had Kelly and Justin, of course, then Ruben versus Clay, Fantasia versus Diana, Carrie against Bo, and then Taylor versus Kat. Of the six seasons to date, which do you think was the hardest to call?
Rosanna: I think the hardest was Ruben and Clay, because Clay was insanely popular — and still is. People weren't sure which way that was going to go.

TVGuide.com: Complete this sentence: "If Blake loses, it will be because... "
Rosanna: "He beatboxed in every song — even the ballad." [Laughs]

TVGuide.com: And "If Jordin loses, it will be because... "
Rosanna: Oh, lord... I don't know. Because Blake beatboxed? [Laughs]

TVGuide.com: Who do you think has the most to gain from winning?
Rosanna: Blake. Definitely. I feel like Jordin is already a winner.

TVGuide.com: That her inevitable album is already presold, but Blake's needs that extra shot in the arm?
Rosanna: Yeah, it could use a little boost.

Matt Richenthal is the Editor in Chief of TV Fanatic. Follow him on Twitter and on Google+.

Tags: American Idol