Before the winner of American Idol is crowned tonight, let's go back stage at last night's performances. We thank People magazine for the report...
Blake's VIP Treatment
Thirty minutes before the show started, Blake Lewis, rockin' his performance gear, made an appearance in the FOX VIP room in the Kodak Theatre lobby. The room lit up as the finalist was escorted in, looking cool as ice despite having to get onstage and take on Jordin Sparks moments later. Blake, who was all smiles, greeted guests, shaking hands as he made his way around the room.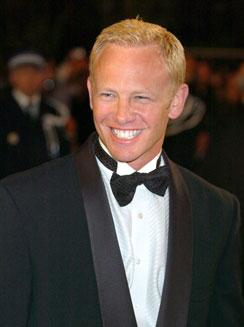 The Idols

Johnny the warm-up guy led the cheers and jeers at the Kodak Theatre Tuesday night. With the clock counting down to show time, he introduced the top 10 (minus two), sending the crowd into hysterics as

Haley Scarnato

, Melinda Doolittle, Chris Sligh, Sanjaya Malakar, Phil Stacey (wearing his black and white sailor suit), Gina Glocksen, Brandon Rogers, Stephanie Edwards and

Chris Richardson

made their way into the room.

And this group, who will hit the road for the American Idols Live tour this summer, couldn't have been a happier, more easy-going bunch.

They should be dancing
When it was time to introduce the judges, band leader Ricky Minor had a little surprise up his sleeve: When Simon Cowell came out wearing, rather than his signature tight tee, a discoed-out black suit with a white shirt unbuttoned down to his "cleavage" (as Ryan Seacrest would later joke), Minor and band played "You Should Be Dancing" by the Bee Gees, replacing the lyrics with "It's Simon Cowell, yeah."

But, of course, Simon and Randy Jackson were already in their seats, with no sign of Paula Abdul. No problem: Minor and crew had some lyrics for that as well, adding "where's Paula Abdul? Where's Paula Abdul?" And, finally, Ryan, who is always on cue and on time, got a little theme too as he made his way onto the stage: "What you doin' Seacrest, yeah? It's Ryan Seacrest, yeah!"

Ryan, Ryan
After Ryan introduced Simon Cowell as "Simon Cleavage" and said on live TV, "So the bitch is okay?" to Paula Abdul after she explained how she'd tripped over her female dog, it was revealed that Ryan's parents were in the house. "The Seacrest family is here," said Johnny the warm-up guy. "Big round of applause for Mom and Dad!" Aww ... Ryan smiled as he headed over to do his next monologue right next to his folks. But true to form, he didn't let their presence hold him back, continuing to make often risqué quips on and off screen.

TV Dads
Ricky Schroder was in the audience with his wife Andrea, daughter Cambrie and sons Holden and Luke, as was Heroes' Greg Grunberg, with his wife Elizabeth and their sons Jack, Sam and Ben. During one commercial break, Schroder, holding his daughter's hand, went up to shake hands with and chat with the judges.

Chris Daughtry Comes 'Home'
Fans have heard the song "Home" all season each time one of the finalists was given their walking papers, but tonight, to the crowd's delight, former Idol Chris Daughtry gave a live performance of the song that even the judges had to stand up for. Audience members, including Denise Richards and Marlee Matlin, cheered and gave Daughtry and his band a standing ovation.

Matt Richenthal is the Editor in Chief of TV Fanatic. Follow him on Twitter and on Google+.

Tags: American Idol