People magazine reported on the backstage happenings on last night's Dancing with the Stars...
Déjà vu
Jerry Springer was back in the house, saying, "I came to give Kym some moral support." The host of the reality show America's Got Talent added:
"Just being in the room and going through those same feelings â€" particularly when you go out there, and just when they are about to announce your name and there's like 30 seconds before you have to dance â€" ... it was like, 'Oh my gosh, I forgot the steps.' I miss the camaraderie, but not the dancing."
Pacing Is Everything
If the first 10 weeks were a marathon, then tonight was a sprint to the finish, says Laila Ali. "I had nerves tonight, but they were good nerves," she adds, while partner Maksim Chmerkovskiy pipes in, "It's exciting. We were very anxious." Anticipating the finale, he also says, "But this is what we wanted to do all season long."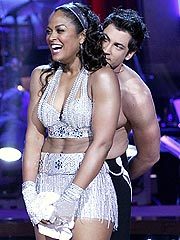 Do-Over

"Tonight was a blur,"

Joey Fatone

says of the one-hour performance show. "It's almost like, 'Did we do everything we wanted to do? Could we do the cha-cha better?' It all went so fast." At this stage in the game, Fatone's partner, Kym Johnson, says, "It's all about entertaining. It's about the viewers at home and what they think."

Shar Thing?
Shar Jackson, a Kevin Federline's ex and a star of the upcoming ABC summer show Ex-Wives' Club, tells People she was inspired Monday night. "I think I want to dance a little bit. Or maybe I want to wear the cute costumes?" she said. "I think I got bit by the bug when I walked in, for sure." And speaking of which, does it bug her that people want to know about her former husband? "Not at all," she says. "Look at us, we are friends. Life's way too short for people not to get along. And he's a great dad."

Family Affair
It was a jam-packed audience, full of family members from around the world. Kym Johnson's mom was visiting from Sydney, Australia. Apolo Anton Ohno's father Yuki was in from Seattle. Pro dancer Julianne Hough's family came in from Utah, and Joey Fatone's wife Kelly and daughter, Brianna, were there, too. Usually audience members have to be 16, but the show allowed the 6-year-old to sit in the front row to see dad perform the cha-cha and the freestyle dance. "She was so excited," Fatone said after the show. "She was waving and smiling. She's a big ham. I'm so glad she could see it."

Matt Richenthal is the Editor in Chief of TV Fanatic. Follow him on Twitter and on Google+.

Tags: Dancing With the Stars