As we prepare for yet another season of Big Brother in the U.S., let's hear what a former contestant has to say about getting onto the show.
Another reality TV site just sat down with Jun Song. Here are excerpts from the interview ...
TVGrapevine.com: For the benefit of your many fans, what is happening in your life now?
Jun Song: I am still working in finance but no longer on the investments side. Love my work, it's in training and development for financial advisers and sales managers. I am dating but single, and looking for a date to Dana's wedding? Haha…seriously though…everything's pretty great and I can't wait for another hot summer! I think my life is what I have made/molded it the past few years, fun but full of chaos.
TVGrapevine.com: Big Brother just finished its city by city cattle calls and will be beginning its Hollywood interviews this week for those they liked during the cattle calls. What will the Big Brother applicant be faced with?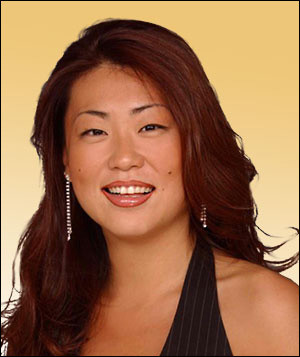 Jun Song: Producers will try to vacuum suck your lifestories out of you, but for good reason. I mean hey, they are the best at what they do because they get it done. Also, expect to be thoroughly examined both physically (medically) and psychologically.

Big Brother 8

hopefuls should also expect to be watched at all times, even if there are no visible producers/handlers in plain view...follow the rules folks, don't screw yourself out of a fair chance.

Many people think it's all a big joke, but coming from a winner, half a million bucks for three months of work is not so bad, haha. You will also be "alone" for long periods of time so make sure you pack plenty of reading or bring along some DVDs. Also, when they are shooting promos and television commercials for the upcoming searson, be prepared to utter words that you never would voluntarily. Unfortunately because of marketing and consistency in messaging, there will be times when you are fed certain soundbites. But it's all in the name of entertainment!

TVGrapevine.com: Do they fly economy?
Jun Song: Yes, you fly economy. The only time I didn't was when I flew back and forth the week I won HOH and walked the red carpet at the VMAs. I was flown first class roundtrip. You have to remember, when you are interviewing, they are making an investment in you so don't expect it too be too glamorous. It is good enough though...great car servicing perks and a small daily stipend in cash.

TVGrapevine.com: What sort of hotel do they stay at?
Jun Song: I mentioned brining DVDs with you during the auditioning process. This is during finals. If/once you are "kidnapped" and sequestered then you can't bring anything with you anyway. There are no hotel stays during semifinals...those are usually in your area because the producers/handlers do the traveling. Keep in mind I was season 4, so for all I know the hotel ratings have gone up a notch, however they might have gone down too. Who the heck knows the budget year to year.

My year, the hotel during finals was between 3 and 4 stars I'd say (pool, gym, great breakfasts, etc.). They definitely kick it up a notch during sequestering (Quiet, secluded, extra large and comfy rooms). Probably sequester time is like jail but without conjugal visits...so the hotel HAS to be a little nicer :).

TVGrapevine.com: Do the many applicants meet each other during the process?
Jun Song: You end up "seeing" some of the other applicants during finals, it's inevitable. However, you are under NO CIRCUMSTANCES to communicate with them in any way (or anyone working/staying at the hotel. Obviously if you're eating 5 tables away from other finalists you have a chance to pick up little habits they have. I mean really, I hate to sound pompous, but you have to play the game and every challenge before it actually starts.

I knew Erika's breasts were fake and she ate very little judging from her eating habits during meals, and I knew that Nathan was a gym rat because I would see his excitement when he walked to the gym. I felt Dana's "NYer" attitude from across the room because she would smirk at things I also thought were funny (aka Erika's pink friggin' pageboy cap).

TVGrapevine.com: What is the actual interview like?

Jun Song: The interview process is no-holds-barred. You kinda get a gist of how you have been "typecast" by the questions they ask you. They are usually right. So don't try to be any different a person than you usually are. There are also enough psych exams that rule out a good percentage of errors in your "profiling" so if you try to bullsh*t your way though the process, they will know. And I say process because it's a series of interviews, not just one. And if you do find yourself in front of them during interviewing/questioning, you owe it to yourself and you owe it to them for choosing you, to be honest and open with them.

Does this make you vulnerable to them? Yes. But that's the point. If you can't handle this process then you have no chance once you get into that Big Brother house. In the house you've got 24 hours of alpha-type housemates, cameras, microphones, and little control.

TVGrapevine.com: Once the interviewing is complete, does the applicant have any idea if they will make the show?
Jun Song: It's all relative. I'm sure there are people who leave finals thinking they will be kidnapped and sequestered in a few weeks. Hopefully by then you have both met their typecasting needs AND have still differentiated yourself enough so they don't think you'll be too predictable. These are not mutually exclusive. I'm sure they expected Alison Irwin to be competitive considering she was a pageant babe, but the producers weren't expecting her to go "Poison Ivy" on America, haha.

TVGrapevine.com: When do the applicants find out they are going in the house.
Jun Song: Typically, you know a couple of days before the show is scheduled to begin. This really sucks for people who are working corporate jobs. I'm not placing weight more on one industry than another but when you are dealing with time-off and notification policies, it gets complicated. In fact, I just "assumed" I was going in that house, and I gave my notification for a leave of absence a month before I left for the Big Brother show.

So yeah, it's only a couple of days notice. Since my season things might have changed, but heck, it takes some time to pack for 3 months of expecting the "unexpected." What you don't know, however, is when they actually say "Okay, we have to go...now." Once they say that you have to haul your butt and then it really hits you that your life will never be the same for a while. And you only get to bring one suitcase plus whatever you can fit into your BB duffel bag.

And by the way, since so many people have asked. When they give you that key to the house and the official Big Brother duffel bag, it feels pretty good. You're one step closer to demolishing everything that stands in your way of winning and oh, taking home half a million dollars.

Matt Richenthal is the Editor in Chief of TV Fanatic. Follow him on Twitter and on Google+.

Tags: Big Brother