Jordin Sparks won a lifelong battle to accept herself when she was crowned American Idol champ last week.
"I think it really helped boost her self-esteem and made her realize she's beautiful as she is," her grandmother, Pam Weidmann, tells People magazine. Jordin's mom, Jodi, says of her daughter's May 23 victory: "It was huge to see her confidence level grow. ... She's standing taller now."
At 5'10" and size 12 by the time she was in junior high school.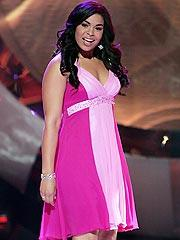 "I stood out everywhere," says the singer, who used to hunch, wear oversized clothing and search in vain for her size at teen mall stores. "I'd look at my friends who were just naturally tiny, and maybe they weren't even a size 2, but they were smaller than me and that was good enough. I was like, 'Oh, why can't I look like that?' "

Sparks says she tried dieting every now and then, but failed because"I like food too much to do it. I would try, like, 'Hey I'm going to diet and I'll be a size 8 by the end of the summer,' but it never worked out."

One day at their local mall, Jordin and her mom came across the newly launched plus-size store Torrid.

"It was like angels – 'ahhhhhhhh!' – shining down on it because it's sizes 12 and up. They have clothes for girls who aren't an average size so they can totally feel cute and flirty and still keep up with the latest trends," Jordin says, noting that being the store's smallest size was "great for my self-esteem."

In fact, just before auditioning for American Idol, Jordin landed a modeling gig for Torrid. "I think it really helped boost her self-esteem and made her realize she's beautiful as she is," says her grandmother.

Her parents' attitudes also helped Jordin feel good about herself. "My mom and my dad always were saying, 'You're beautiful, Jordin,'" says the Idol winner, whose father Phillippi,, a former star cornerback for the New York Giants, is 5'11" (mom is 5'6").

After nailing her audition, Jordin's confidence began to soar. For the first time in her life, she embraced her right to bare arms.

Before the show, "I liked to wear sleeves because they would cover up my arms," she says. When the show's stylists made suggestions, "I'd go, 'This dress is way too beautiful. If I add sleeves it will ruin it.' So I just got over it."

These days, "I'm really comfortable in my own skin," Jordin says with her signature wide smile. "I learned that I'm not ever going to be a size 2. I would look so weird as a size 2. Somebody would blow and I would fall right over. It just wouldn't be healthy."

Matt Richenthal is the Editor in Chief of TV Fanatic. Follow him on Twitter and on Google+.

Tags: American Idol