Frankie Abernathy, Real World San Diego Cast Member, Passes Away
by Matt Richenthal at .
Frankie Abernathy, the punk rock-adoring former Real World: San Diego housemate whose struggle with cystic fibrosis helped to further raise national awareness about the chronic lung disease, died Saturday evening in her mother Abbie Hunter's Shorewood, Wisconsin, home. An official cause of death has yet to be determined; Abernathy was 25.
According to Hunter, Abernathy was diagnosed with cystic fibrosis â€" a hereditary disease that causes thick, sticky mucus to build up in the lungs and digestive tract â€" at the age of 3. She is survived by a sister, Mamie; her mother; stepfather Perry, and her dad, Joe Abernathy, who now resides in Texas.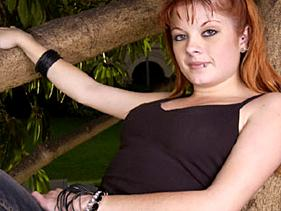 "It was very sudden," her mother said. "It wasn't something that was expected. She was doing fine, and we really don't know very much yet. It still was kind of a shock, and it just wasn't how we figured things would go. It seems like her little body just gave out."

Cystic fibrosis is one of the most common life-shortening, childhood-onset hereditary diseases, and every year in the United States alone, 1 in 3,900 children are born with it. Difficulty breathing and insufficient enzyme production in the pancreas are the most common symptoms, and thick mucus production â€" as well as a weak immune system â€" often results in frequent lung infections, which are treated, though not always cured, by oral and intravenous antibiotics.

Hunter said Abernathy, who was born in Blue Springs, Missouri, on December 21, 1981, moved to Wisconsin last fall with her family, and, while she wasn't working full time, she was designing purses forged from old vinyl records. This winter, her health began to worsen.

"It was a day-by-day thing," Hunter said. "Some days she felt good, and some days she felt bad. We were kind of hoping to get her [on a list] to see if she would qualify for a lung transplant, because the disease does get progressively worse. In the winter, most [people with cystic fibrosis] usually have a rough patch, and she had a rough patch this year. She had been sick more this last year than she'd ever been in the past. I am very grateful that it was very quick for her. It certainly made it hard for the survivors. She's just our little girl."

Abernathy â€" who had said at one point during her time on 2004's The Real World: San Diego that "Tomorrow is a privilege, so live today like tomorrow isn't happening" â€" helped put a face to the disease. Abernathy didn't stay for the entire season; she left because of several problems she had with her roommates and because she missed her boyfriend, Dave, terribly.

"Her experience on The Real World taught her about what she needed to do, and it helped other people as well," Hunter said. "I know several people weren't aware of the cutting epidemic at the time" â€" Abernathy cut herself intentionally with a kitchen knife during the show's taping â€" "and I know several people wrote Frankie and thanked her.

She was a different person for The Real World realm, and I think she touched a lot of people and made an impact on a lot of people's lives. That's what you want when you have a child â€" you hope they do that. I wish it had been in a different way, but I am proud of her, and as I said, she got a lot of personal growth out of her experience, and she was very fortunate to have had the experiences she did."

Matt Richenthal is the Editor in Chief of TV Fanatic. Follow him on Twitter and on Google+.

Tags: Reality TV
From Around the Web