Hayden Panettiere is a Star Entertainment Weekly Loves
by Matt Richenthal at .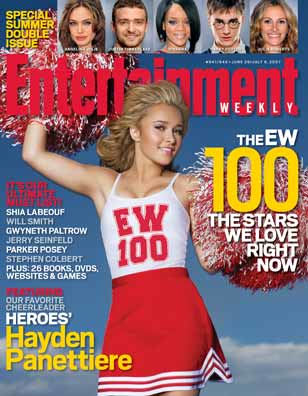 In its most recent issue,
Entertainment Weekly
names 100 stars it loves. Topping the magazine's list? None other than
Hayden Panettiere
.
Why does the magazine feel so strongly about Panettiere? We shouldn't need to tell any fan of Heroes, but here are the reasons given...
WHY HER The breakout star of TV's hottest new drama, Heroes, Panettiere plays Claire Bennet, an unbreakable high school girl who became synonymous with the show when the catchphrase ''Save the cheerleader, save the world!'' entered the pop culture lexicon. '
'I think it was very clever,'' says the New York-born actress, although she admits that calls of ''Hey, cheerleader!'' now follow her around Los Angeles. ''But it's fun. It's not an obnoxious thing.'' Technically speaking, Claire doesn't actually spend much time shaking pom-poms. ''I told [Heroes creator] Tim Kring I need to cheer at some point,'' the actress says with a laugh. ''She wears the outfit all the time!''
CROSSING OVER Her debut record, due in 2008, reflects her diverse tastes. ''I wanted to make every song sound as different as possible,'' she says. ''I hate sitting down and listening to an album where every song sounds the same.''
Panettiere, who trained to be a singer for a while and even sang jingles, co-wrote most of the album's tracks, including ''Saved,'' about the death of a friend. ''You come in with an idea of what you want to write about,'' she says of the collaborative process. ''It's fun when you have a lot of different people that you get to bounce ideas off of.''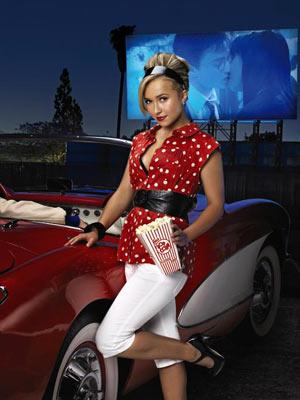 NEXT Panettiere's day job should keep her busy for years, but she'll start working movies into her schedule before long. First up is the indie drama Fireflies in the Garden, with Julia Roberts. It's a dream job, obviously — and definitely worth sacrificing a vacation for.

''I really wanted to set the tone for the kind of things that I want to do,'' she says. In the film, Panettiere will portray a young woman who leaves home to get an abortion.

SECRET TALENT ''I can ride a zebra! I had to ride one in Racing Stripes, and I'm, like, one of the only people who's ever ridden one. The trick is to hang on tight. They're bouncy little things. And never, ever go by the rear of it. It's not fun. They'll kick the bejesus out of you.''

Matt Richenthal is the Editor in Chief of TV Fanatic. Follow him on Twitter and on Google+.

Tags: Heroes
From Around the Web