NBC had a special event on the set of Heroes today to announce that they're going global. Literally.
The cast and creators will be traveling to at least seven major cities to promote the first season of the show in places in which it hasn't premiered yet. The confirmed cities so far are:
Toyko
Hong Kong
Singapore
Munich
Paris
London
New York
Hmmm.... hasn't it been on in New York already? Anyway, we'll move on.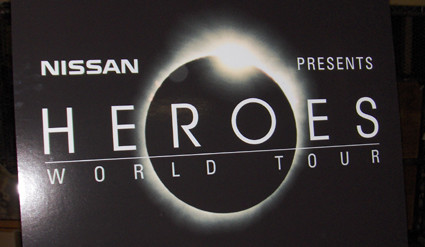 As reported by TV Squad,

Nissan will be sponsoring

the tour, which will also be going green in an effort to "reduce the carbon footprint," Kring said. Whatever that entails.

Greg Grunberg, who plays the mind-reading Matt Parkman, said he was visiting Paris with his wife recently, and emphasized hat show hasn't even premiered on the air there. However, he had people coming up to him left and right who recognized him from seeing the show on their computers.

The tour is focusing on season one and the upcoming August 28th release of the DVD box set, which includes 50 deleted scenes, commentaries, and the full 73 minute premiere episode.

Matt Richenthal is the Editor in Chief of TV Fanatic. Follow him on Twitter and on Google+.

Tags: Heroes