Following last week's eliminations on So You Think You Can Dance, let's meet the show's top 20 finalists:
Girls:
Anya Garnis, 25, is a Latin Ballroom dancer from New York, NY. Anya has been living in the U.S. for six years after growing up in Russia. She has been dancing with partner Pasha Kovalev, also a finalist, for nine years.
Jaimie Goodwin, 19, is a Contemporary dancer from Virginia Beach, VA. Jaimie danced in competitions with Season Two contestant Travis before coming onto the show.

Lauren Gottlieb, 18, is a Contemporary/Jazz dancer who currently lives in Sherman Oaks, CA. Lauren is originally from Scottsdale, AZ. After moving to California, she landed a spot dancing with Shakira at the Grammy Awards. She has been dancing since she was 2 years old.
Sabra Johnson, 19, is a Contemporary dancer from Roy, UT, with training in Ballet and Jazz. She hopes to pursue dancing as a professional career.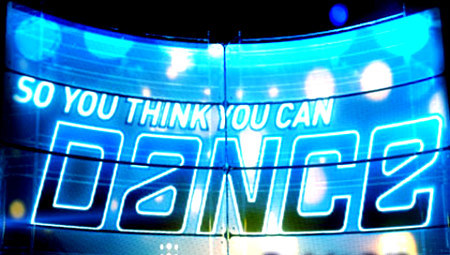 Ashlee Langas, 19, is a Contemporary/Jazz dancer from Tyler, TX. Ashlee has spent her life dancing in all sorts of settings from dance theaters to high school productions.

Shauna Noland, 18, is a Contemporary dancer from North Hollywood, CA. She has been dancing for 15 years and also has an avid love of singing.

Jessi Peralta, 24, is a Hip-Hop dancer from Valley Village, CA. She has danced in front of President Bill Clinton at the Apollo and has performed at Madison Square Garden.

Faina Savich, 21, is a Latin Ballroom dancer from Brooklyn, NY. Following in her brother Stanislav's footsteps (he was a finalist in Season Two), Faina grew up in Moscow and has been living in the U.S. for six years.

Lacey Schwimmer, 18, is a Swing and International Latin dancer from Redlands, CA. Following in the footsteps of her brother and dance partner, Benji, who won the competition last season, Lacey has her own style which she hopes to showcase this season.

Sara Von Gillern, 23, is a Hip-Hop/B-girl dancer from Ft. Collins, CO. While she started as a journalism major at Colorado College, dancing has always been her main love. She is a dance instructor and was one of 30 people from all over the world selected to be part of the Red Bull: Beat Rider program, which gave her the chance to work with some of the biggest names in the Hip-Hop/Breaking field.

Guys:
Jimmy Arguello, 21, is a Contemporary dancer from Miami, FL. After taking his first dance class in middle school, Jimmy, at first focused on running in track and field, changed directions completely and found his true calling in dance.

Kameron Bink, 20, is a Contemporary/Hip-Hop dancer from Coral Springs, FL. Known for his distinct red-star hair, Kameron brings over 15 years of dance training to the show and hopes the experience will bring him new and exciting opportunities as he pursues a professional dance career.

Cedric Gardner

, 23, is a Hip-Hop dancer from New Berlin, WI. He started training at 18 at University of Wisconsin-Milwaukee, then moved two-years later to Los Angeles, where he received a full scholarship with Monsters of Hip Hop.

Neil Haskell, 20, is a Contemporary Jazz dancer from Clarence Center, NY. Neil is currently training in New York City, where he performed in the play "The Times They are A-Changin'" on Broadway and was named Male Dancer of the Year in 2005 by the American Dance Awards Competition.

Hok Konishi, 22, is a B-boy dancer from Los Angeles, CA. Born in Tokyo, Hok spent much of his youth in Oxford, England.

Pasha Kovalev, 27, is a Latin Ballroom dancer from Fort Lee, NJ. Pasha is originally from Russia and has trained with numerous professional ballroom dancers. He has been dancing with partner Anya Garnis, also a finalist, for nine years.

Ricky Palomino, 25, is a Contemporary dancer from Phoenix, AZ. Ricky also enjoys singing (he recently recorded his first CD), and he is a master teacher and choreographer.

Dominic Sandoval, 21, is a B-boy/Hip-Hop dancer from Roseville, CA. Born in Sacramento, he started his hip-hop training in January of this year.

Jesús Solorio, 23, is a Contemporary/Jazz dancer from Paso Robles, CA. Jesús makes his own wine at his family vineyard.

Danny Tidwell, 23, is a Contemporary/Jazz dancer from New York, NY, whose brother Travis Wall was last season's runner-up. Danny was previously involved with the American Ballet Company.

Matt Richenthal is the Editor in Chief of TV Fanatic. Follow him on Twitter and on Google+.

Tags: So You Think You Can Dance