The Envelope recruited three groups of Emmy experts to predict who'll nab nominations when bids are unveiled at 5:35 a.m. PT on Thursday.
Two actual voters who judged episode samples submitted in the races for best drama and comedy series squared off against top TV journalists and two of The Envelope's message board moderators known for their Emmy expertise.
There's strong disagreement over many of the contenders. The Emmy voters, for example, don't believe "Lost" or "Friday Night Lights" will make the list for best drama, but both shows have strong support among journalists and Envelope moderators. As for Heroes? Read below.
Here's the breakdown:
2 EMMY VOTERS (Anonymous)
Judges agree in both drama and comedy series categories: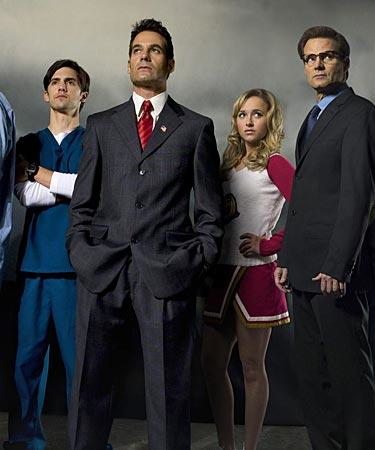 BEST DRAMA SERIES

"Grey's Anatomy"
"Heroes"
"House"
"The Sopranos"
"24"

BEST COMEDY SERIES
"Entourage"
"The Office"
"30 Rock"
"Two and a Half Men"
"Ugly Betty"

*******************

TV JOURNALISTS

Marc Berman, Mediaweek
Robert Bianco, USA Today
Hal Boedeker, Orlando Sentinel
Michele Greppi, TV Week
Tom O'Neil, Gold Derby, TheEnvelope.com
Ray Richmond, Hollywood Reporter
Matt Roush, TV Guide
Mo Ryan, Chicago Tribune
Diane Werts, Newsday
David Zurawik, Baltimore Sun

BEST DRAMA SERIES
"The Sopranos" -- Berman, Bianco, Boedeker, O'Neil, Richmond, Roush, Ryan, Werts, Zurawik
"Friday Night Lights" -- Berman, Bianco, Boedeker, Richmond, Roush, Ryan, Werts, Zurawik
"Heroes" -- Berman, Boedeker, Richmond, Roush, Ryan, Werts, Zurawik
"Lost" -- Berman, Bianco, Boedeker, O'Neil, Richmond, Roush, Ryan
"House" -- Bianco, Boedeker, O'Neil, Roush, Ryan, Zurawik
"Grey's Anatomy" -- Berman, Bianco, O'Neil, Roush, Zurawik
"24" -- O'Neil
"Brothers and Sisters" -- Werts
"Rescue Me" -- Richmond
"The Shield" -- Werts

BEST COMEDY SERIES
"30 Rock" -- Berman, Bianco, Greppi, O'Neil, Richmond, Roush, Ryan, Werts, Zurawik
"Ugly Betty" -- Berman, Bianco, Boedeker, O'Neil, Richmond, Roush, Ryan, Werts, Zurawik
"The Office" -- Berman, Bianco, Boedeker, O'Neil, Richmond, Roush, Ryan, Werts
"Entourage" -- Berman, Bianco, Boedeker, Greppi, Richmond, Werts
"Scrubs" -- Berman, O'Neil, Richmond, Roush, Ryan
"Two and a Half Men" - Greppi, O'Neil, Roush, Ryan
"Desperate Housewives" -- Boedeker, Werts, Zurawik
"My Name Is Earl" -- Boedeker, Greppi
"Extras" -- Zurawik
"The New Adventures of Old Christine" - Bianco
"Weeds" -- Zurawik

ENVELOPE FORUM MODERATORS

Chris "Boomer" Beachum, Robert "Rob L" Licuria

DRAMA SERIES
"The Sopranos" -- Beachum, Licuria
"Grey's Anatomy" -- Beachum, Licuria
"Lost" -- Beachum, Licuria
"Friday Night Lights" -- Beachum, Licuria
"24" -- Beachum, Licuria

COMEDY SERIES
"The Office" -- Beachum, Licuria
"30 Rock" -- Beachum, Licuria
"Ugly Betty" -- Beachum, Licuria
"Two and a Half Men" -- Beachum, Licuria
"Scrubs" -- Beachum, Licuria

** We'll have the official word on whether or not Heroes make the cut as soon as it's announced.

Matt Richenthal is the Editor in Chief of TV Fanatic. Follow him on Twitter and on Google+.

Tags: Heroes