Kelly Clarkson Releases Apology over Clive Davis Feud
by Matt Richenthal at .
After a few weeks of bashing label head Clive Davis, Kelly Clarkson released the following statement on her website earlier today:
"A lot has been made in the press about my relationship with Clive. Much of this has been blown way out of proportion and taken out of context.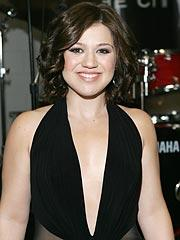 "I'm well aware that Clive is one of the great record men of all time. He has been a key advisor and has been an important force in my success to date. He has also given me respect by releasing my new album when he was not obligated to do so.

"I really regret how everything has turned out and I apologize to those whom I have done disservice," she adds. "I would never intentionally hurt anyone. I love music, and I love the people I am blessed to work with. I am happy that my team is behind me and I look forward to the future."

With her album, My December, not doing well on the charts, it's not shocking Clarkson would come out with such a statement. We hope her figures improve.

Matt Richenthal is the Editor in Chief of TV Fanatic. Follow him on Twitter and on Google+.

Tags: American Idol
From Around the Web