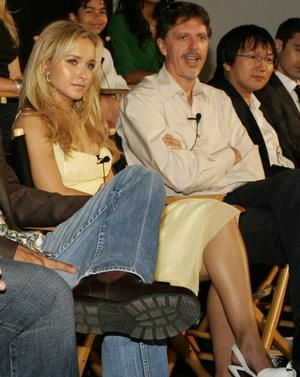 It would be wrong - and possibly a felony - to say too much about how lovely 17-year-old
Heroes
star
Hayden Panettiere
looked yesterday, when NBC arranged a visit to the show's sets.
The blog TV with Meevee was there, commenting on how this young actress was batting her eyelashes and making sure reporters get a good look at the assets. The site said Hayden seemed more like a perfect-attendance, student-council-president type who just happens to be magazine-cover pretty.
As she strolled around the set, Panettiere made very clear that we won't be seeing her in any Paris Hilton-style misadventures.
"I have an allowance that I get, the money was never made apparent to me, it was just, 'This is what you love to do.' ... I was raised completely as a normal kid," she said. "I take out the trash, I walk the dogs, I make the bed, I vacuum. ... I'm not allowed to leave the house unless I make the bed and everything in my room is put away."
Sounds like Hayden and Jansen Panettiere were raised the proper way.
The actress does have a generous 1 a.m. curfew, however. And, besides, the fans yelling "The cheerleader!" and pointing at her, there are some tough angles to being a pretty young star. Such as the paparazzi waiting outside her house for her to leave.
"You usually have cameras following you, which makes it more of a scene," she said. "I went to try to go to Venice Beach the other day, you can sort of blend in with people, which is kind of nice. But then they see 10 cameras, and they're like, 'Who are they looking at? Who are they looking at?' "
She sighed and shook her head, and someone asked if she could understand what has happened to Lindsay Lohan and to other young starlets, and if it could happen to her. The answer to the latter was an emphatic no.
"I'm not surrounded by those kinds of people they're surrounded by. You understand how it happens, you understand what they did wrong," she said. "But it's so, like, controllable. When you're putting nasty white powder up your nose, that's you putting it up there, no one else is putting it up there."
Panettiere, of course, plays the cheerleader Claire Bennet, whose superpower is healing.
Meevee about halfway through the tour when they visited with the prosthetics guys, who had a selection of fake body parts laid out on a long table. Bryan Blair of Optic Nerve Inc. demonstrated the cable controls on a prop head used after Claire had her head bashed against some lockers by Sylar. The head's crumpled, bloody temples and pushed-in face seemed to reinflate like a balloon until they were once again, well, head-shaped.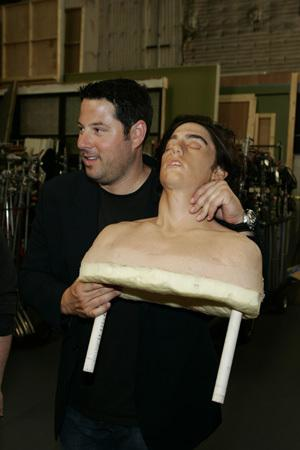 "Is that my body parts?" Panettiere said, walking up and grabbing a small prosthetic with two pieces of "bone" sticking out. "I love the ribs because they actually move! These were used in the first season. They go back in and then they squish back out."

But she was most interested in something that the FX guys referred to as "the autopsy piece," a silicon torso simulating Claire's flayed chest, with skin flaps pulled back to show the bloody rib cage. Hayden bopped right over and started playing with it, flipping the skin flaps open and closed.

"This is my chest cavity when I was chopped open, fileted on the table last season," she said. "This was not fun to have on. They kept having to come over and spray it down with water. The blood would literally run off under my arms and get stuck under there. It was creepy. I was in almost nothing on the table with this thing on, on a freezing cold metal table. I kept wanting coffee and I couldn't get up to get it."

Matt Richenthal is the Editor in Chief of TV Fanatic. Follow him on Twitter and on Google+.

Tags: Heroes