Later this summer, Sydney Penny will return to All My Children.
The actress has been on maternity leave, but found time to talk with TV Guide about the pregnancy and series comeback...
TVGuide.com: Love the baby's name. Chasen sounds like a soap opera hunk.
Penny: Oh, that's so funny. It's the name of my friend's brother, who is just a lovely young man. But it's just a name that stuck in my head. I went online and found out it's an old English name that means "huntsman." So that's cool.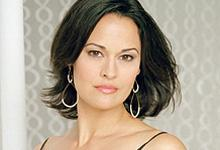 TVGuide.com

: How has your first week as a new mom been? Does Chasen keep you up all night?

Penny

: He's a really, really good boy. Of course, there's a lot of adjustment as we figure out what he wants and what he needs. But he doesn't cry a lot, only if there's really something bothering him. I suppose I'm tired but I'm just having a good time. It's been a really lovely time and we're enjoying it.

TVGuide.com: Your AMC character Julia really wants a baby, but the show hasn't written your pregnancy into her storyline.
Penny: I really like what they did. Julia's relationship with Jamie (Justin Bruening) has been great, but there's always been something missing. Her life has become more stable now that she has friends and a good job. It's everything she was missing during her 10 years [on the run from gangsters], yet there's still something missing. So she's overjoyed at the thought that she might be pregnant. When Jamie discovers the pregnancy test, he mistakenly thinks that it's Di's test and that Aidan's gonna flip out at this terrible news. That's where Jamie gives away his hand — a baby is not something he would look forward to.

TVGuide.com: Bummer.
Penny: That was the question Julia had about her life. "Is Jamie the one I could start a family with?" Quite obviously, he isn't.

TVGuide.com: Too bad. In a recent AMC episode, Amanda peeked at Jamie's financial records and it was revealed that he's worth about $15 million!
Penny: [Laughs] I hear what you're saying. But hey, Julia and her friends are apparently living very well at the Wildwind estate rent free.

TVGuide.com: Wildwind is like the island of misfit toys, since all these homeless hunks and babes are squatting there.
Penny: That's what Justin Bruening calls it! Wildwind is the island of misfit toys. All of us love our scenes together and we hope nobody will move out. Hey, the Wildwinders are doing a really lovely fan event to raise money for charity. It's on August 4 in New York City. You can find all the info, like which actors are scheduled to appear, at wildwindevent.com.

TVGuide.com

: Nice! So while you're off the show, Julia will be in California visiting her sister, Maria?

Penny

: I think she's visiting the whole Santos family. They're all supposed to be living in California now! She's going to introduce her adopted daughter, Kathy, to everyone. Julia wants to make her life all about Kathy. [Laughs] So you can see where we're heading in the fall....

TVGuide.com: Right. The show has been hinting that Kathy is really Tad and Dixie's long-lost daughter, Kate.
Penny: Exactly. I'm looking forward to more of that storyline this fall. If Kathy ends up being Jamie's sister, and Jamie and Julia stay together, Jamie could become stepfather to his own sister. That would be really odd! [Laughs]

TVGuide.com: Talk about complicated. Plus, there's always been on-screen chemistry between you and Michael E. Knight, who plays Jamie's dad, Tad.
Penny: Yes. This puts me right between the father and son, which is fun.

TVGuide.com: When will you be back on AMC?
Penny: I think I'm coming back to work sometime in July. It depends on how they want to work me back into the canvas. I'm guessing I'll start airing again in the beginning of August. I'm just enjoying this time with the baby. It's the best. I can't believe it's happening!

Matt Richenthal is the Editor in Chief of TV Fanatic. Follow him on Twitter and on Google+.

Tags: Soap Operas